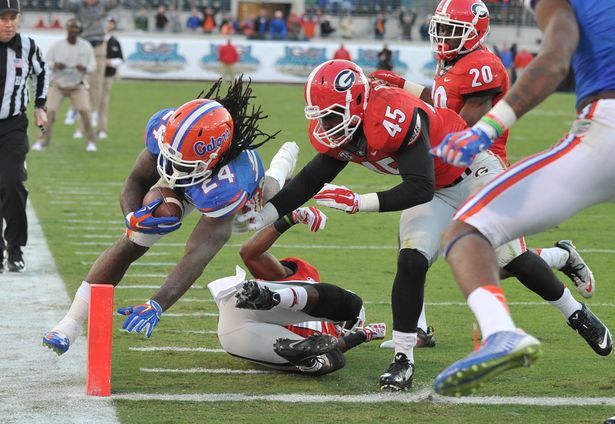 Brant Sanderlin/ AJC
ATHENS, Ga.– It is finally here! The game all Bulldogs and Gators fans wait for every season!
All the attention turns this weekend to Jacksonville, Florida and for good reason. The winner of this game pulls into the lead to win the SEC East with two conference games remaining.
For Georgia, this would give fans a glimmer of hope for a season that has been mediocre to this point. The month of October has especially been rough on them with two losses, a huge injury to a key player and a touchdown-less win over Missouri.
Now after the bye week, this team has a chance to salvage this rough month with a win on the final day of it.
It will also be the first time for many Bulldogs that they will be playing against Florida inside EverBank Stadium. Head coach Mark Richt says they're in for an experience.
"I guess the main thing is don't let the fact that only half of the stands are full of Gators fool you," Richt said. "I mean, it's going to be loud. It's going to be as loud as any SEC game that you'll be at. Of course, when Florida has the ball, it's going to be just as loud when our fans are doing their thing. So I guess if you hear only half the stands are your opponent, maybe you might think it will be half the noise, but it's not true. It's going to be loud enough where we've got to do all of our non-verbal cadence, and that's one thing they've got to focus on."
Not that much motivation is needed for this game, but Georgia fans don't forget the 38-20 domination by the Gators last year. Florida ran for 418 yards in that win.
A couple of weeks ago, a Gators win over the LSU Tigers would have made this game meaningless in the SEC East race. Now, the hopes are back on the table and senior defensive tackle Chris Mayes is happy about that.
"At first it was out of our control," Mayes said. "But now with the losses and everything that happened, the situation is back in our power. We control our destiny from here."
Georgia is hoping to get senior outside linebacker Jordan Jenkins back for this game after missing the Missouri game with a groin/abdomen issue. Right says that he practiced on Monday and will be full strength by the end of the week. Sophomore wide receiver/return man Isaiah McKenzie is expected back from the hamstring issue.
The Bulldogs will travel down to Jacksonville on tomorrow night.