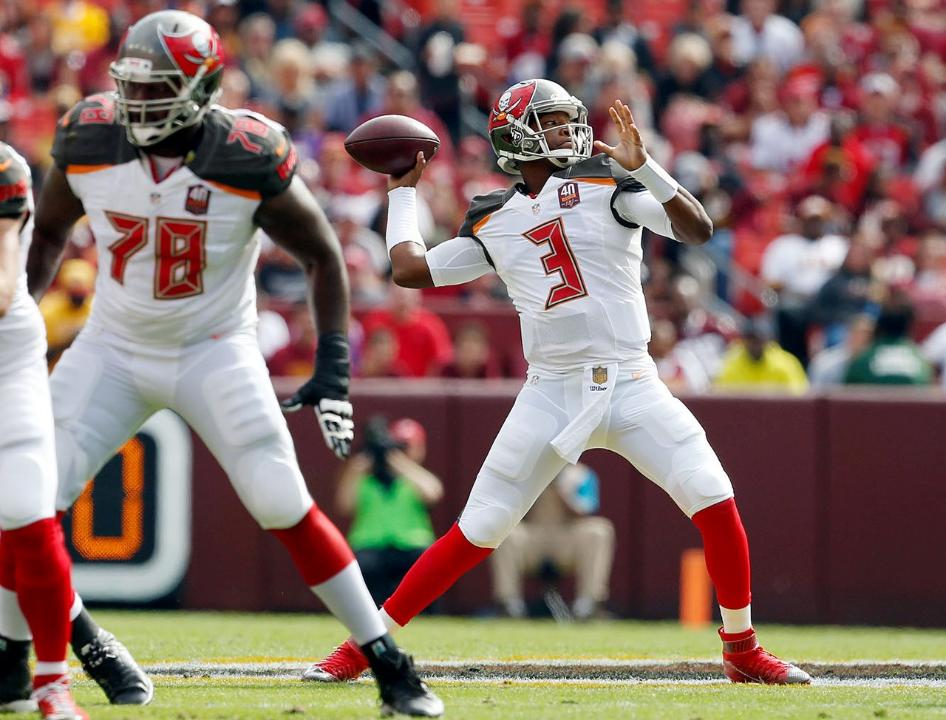 Buccaneers.com
FLOWERY BRANCH, Ga.— While the season did not start all that well for this year's top draft pick, lately has been a much different story for Tampa Bay Buccaneers quarterback James Winston. After starting his NFL career with a pick six against the Tennessee Titans, recently he's been extremely efficient with the football.
At the moment Winston is completing 59 percent of his passes, with nine touchdowns and seven interceptions. The last two games against the Jacksonville Jaguars and Washington Redskins, he has completed about 70 percent of his throws and hasn't thrown one interception.
For a rookie quarterback, things seemingly are progressing very nicely for the Florida State product. Winston has been a presence in the pocket this year, he can keep plays alive with his feet.
Sure, he ran a 4.97 forty-yard dash at the NFL Scouting Combine. However, who can forget about his touchdown run against Oklahoma State last year to open the season at AT&T Stadium in Arlington?
Falcons head coach Dan Quinn says that it is the scheme that Tampa Bay runs that helps Winston make plays in this offense.
"(I'd say) number one it's the explosive plays that they're able to create both in the run game and in the pass game," Quinn said. "They have really unique receivers in the style that they want to play with. I think it's just the whole package in terms of what would they play. It's down the field shots and big plays are the things that jump out to us the most."
The Falcons first pick defensive end Vic Beasley played against Winston during his college days at Clemson. He only got to see Winston once, but also says that the slow 40 time shouldn't be focused on.
"I think he has more of a pocket presence as a quarterback," Beasley said. "But, don't be surprised if he does pull the ball down and run it."
Vic's teammate at Clemson and fellow rookie defensive lineman Grady Jarrett sees the same traits out of Winston. He says the defensive front seven will have to be on their "A" game against him.
"He definitely can get out and make plays on his feet if we aren't disciplined with our rush lanes," Jarrett said. "So that's just another added plus for them. He's an athlete, but he wants to be a good quarterback as well. Our opportunities to get to him will be there, but we've got to be disciplined."
To the list of the impressed with the work of Winston during his short time in the NFL, you can add Falcons defensive coordinator Richard Smith.
"Given the stuff that I have heard on him, is that he's got a real good of command," Smith said. "He carries himself extremely well and I think he's well respected there at Tampa. The players gravitate towards that. Right now, he's doing a great job of staying in the pocket and the times that he escaped from the pocket, he's done a great job with that. We've been really impressed with him as a first year player."
This will be the first of two meeting this season with Winston. If he continues to play like he has, the Falcons will get to know him very well over the years.