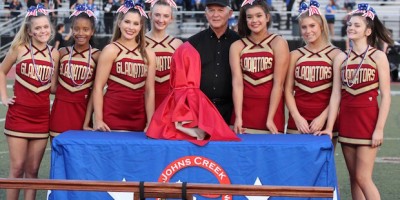 Credit: Michelle Neely
The Johns Creek Gladiators hosted their first annual Veterans Memorial Classic game against the Centennial Knights last Friday. During the pre-game meal, Barry "Gunner" Stinson, who served aboard Patrol Gunboat USS Crockett, talked to the players about the importance of courage and honor. He discussed how everyone could honor those who gave their lives for this country by being honorable in all that they do not just on the field, but in school and at home. Veterans gave both teams a pregame speech in the locker rooms before they took to the field. The color guard, which was made up of veterans from the Vietnam and Korean wars, led everyone in the national anthem.
Mayor Mike Bodker of Johns Creek and president of the Johns Creek Veterans Association Michael Mizell, a retired Lieutenant Colonel of the US Army Military Police (1973-94), performed the unveiling of the Veterans Memorial Trophy. The referees then blew their whistles and the game began. After a scoreless first quarter, Blane Mason put Centennial on the board with a 49-yard touchdown catch. Johns Creek managed to march down the field but had to settle for a field goal after being stopped short by a sack from Jack Barton and Nick Croawell. As the first half came to an end, Centennial led by a score of 7-3.
Johns Creek was quick to score on two touchdown passes from Zach Gibson to Zach Williams, but Centennial followed up with a touchdown by Julian Nixon to keep the game close with 8:50 left in the third. With under six minutes left in the game, the Knights converted a fourth-and-1 from the Johns Creek 26-yard line. Centennial would capitalize on the drive with a go-ahead touchdown pass from Max Brosmer to Mason. Justice Turner helped the Knights finish strong by breaking up a potential touchdown pass to end the game. Centennial picked up its first win of the season and took home the inaugural Veterans Memorial Trophy in the process.