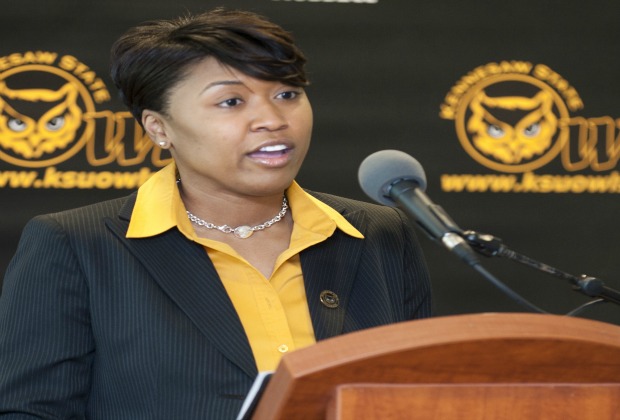 Kennesaw State
With the win against Mercer on Jan. 5, the Kennesaw State men's basketball team looked poised to make a run leading up to the Atlantic Sun Tournament.
That has not been the case as the Owls have not won since that day, with the two most recent losses coming at the hands of USC Upstate last Thursday and East Tennessee State this past Saturday.
In the East Tennessee State contest, the Owls trailed by as many as 17 points. They were able to cut the lead to single digits at various times in the second half, but ETSU guard Lester Wilson could not be stopped as he led all scorers with 19 points.
The highlight for the Owls was the play of Aaron Anderson, who scored a team-high 13 points and collected a season-high 14 rebounds.
"I could not be more proud of Aaron Anderson tonight," head coach Lewis Preston told ksuowls.com. "I hate the fact that he's a senior. I hate the fact that I'm not going to have a chance to coach him after these next 12 or 13 games."
With the 14 rebounds, Anderson moved to fifth place on KSU's all-time rebounding list with 620.
Anderson and the rest of the Owls will return to action today when they face Lipscomb. Next, the team will travel to Highland Heights, Ky., to face Northern Kentucky this Saturday.
FINISH THE DRILL …
The women's basketball team is struggling to find the winning formula as the program has not earned a victory since Dec. 13. On Monday, the Lady Owls hosted USC Upstate, only to fall 61-52. The Lady Owls kept the game close and actually led by three late in the second half before USC Upstate regained the lead and pulled away.
"We played well in spurts," Kennesaw State head coach Nitra Perry told ksuowls. com. "And that's really been the story of our last two or three games. We're getting closer, but we're just not over the hump yet. We were missing some layups and easy buckets and that hurts, especially when we're down. It really takes the energy out of us."
Three Lady Owls managed to net double-digit points against USC Upstate. Kristina Wells led the KSU with 14 points while Chelsea Mason added 12 and Ashley Holiday scored 10.
The Lady Owls will travel to Northern Kentucky Saturday, searching for the program's first win in more than one month.