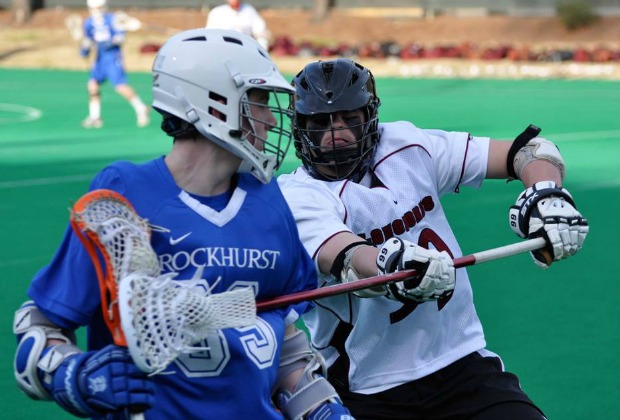 Photo by Rich Wehman
Hoyas, Bulldogs climb in Class AAAAAA
In Class AAAAAA boys lacrosse, battle-tested Harrison (7-0) moves up to No. 2 with wins over Etowah, Walton and Westminster on its resume. North Gwinnett (6-0) moved up one spot to No. 3 with its 10-7 win over Mill Creek last Wednesday and Milton jumped to No. 4 with a 12-11 win over Walton last Tuesday. Peachtree Ridge debuts at No. 10 and replaces Chattahoochee, which lost its fourth game of the season on Thursday (12-8 to Lambert).
The McIntosh boys lost their third straight game and fell out of the top 10 in Class A-AAAAA. Greater Atlanta Christian replaced the Chiefs in the poll after posting back-to-back victories over Riverside Military (19-2) and Blessed Trinity (6-2).
The Milton girls remain No. 1 in Class AAAAAA, despite a 15-11 loss to Vero Beach (Fla.) on Thursday. Vero Beach is 8-0 and one of the best teams in Florida. No. 3 Chattahoochee played three Florida schools last week. The Cougars fell 20-9 to Ponte Vedra and 19-12 to Creekside, but managed a 17-0 shutout over Fletcher. Roswell fell to No. 9 after losing its third straight game on Tuesday to Harrison (16-15). Woodstock is replaced at No. 10 by Lambert (5-1) after getting routed by Walton 25-5 last Wednesday.
The undefeated Kell girls (5-0) entered the top three in Class A-AAAAA with their 13-11 win over Johns Creek last Tuesday. Wesleyan replaces Marist for No. 10 and recently defeated St. Pius X 16-15 in double overtime.
BOYS
Class AAAAAA
1. Centennial
2. Harrison
3. North Gwinnett
4. Milton
5. Walton
6. Hillgrove
7. Lambert
8. Etowah
9. Roswell
10. Peachtree Ridge
Class A-AAAAA
1. Westminster
2. Northview
3. Lovett
4. St. Pius X
5. Pace Academy
6. Blessed Trinity
7. Whitefield Academy
8. Fellowship Christian
9. Pope
10. Greater Atlanta Christian
GIRLS
Class AAAAAA
1. Milton
2. Lassiter
3. Chattahoochee
4. Walton
5. Etowah
6. Centennial
7. John's Creek
8. North Gwinnett
9. Roswell
10. Lambert
Class A-AAAAA
1. Westminster
2. Northview
3. Kell
4. Cambridge
5. Blessed Trinity
6. Holy Innocents'
7. McIntosh
8. Pope
9. St. Pius X
10. Wesleyan