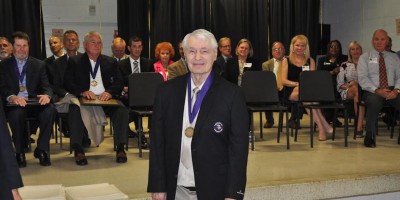 The Lakeside High School Sports Hall of Fame will induct 35 members into its Class of 2020 during a ceremony that will take place at 12:30 p.m. on Saturday, Feb. 29 at the school. The group of inductees is the Hall of Fame's second class and includes athletes from a range of different sports and points of time in the school's 56-year history. During the red-carpet ceremony, each inductee will receive a Hall of Fame jacket, medallion and plaque.
Photo accompanying this article is beloved Lakeside coach Dave Redford after being inducted into the inaugural Lakeside Hal of Fame Class in 2019
Completing the Class of 2020 came after the selection committee received more than 150 nominees, and the 35-member class consists of 10 football inductees in addition to multiple inductees in the sports of basketball, baseball, soccer, cross country, tennis, swimming, track and field, gymnastics and wrestling. There are also three coaches joining the Hall of Fame in this year's Class.
In addition to the John Kicklighter Award, which is given to a person who was instrumental in Lakeside's success off the field, there will be an award given each year to a cheerleader. The late Beth Cooley-Jordan is the recipient of of the inaugural Cheerleading Award and will be inducted into the Hall as one of this year's 35 incoming members. This honor will also be named after Cooley, who was a graduate of the Lakeside Class of 1982. Cooley cheered while attending Lakeside and went on to the University of Georgia where she was a cheerleader and graduated Cum Laude from the University of Georgia's Terry College of Business. Beth passed away in October of 2017 after a long battle with brain cancer.
The John Kicklighter Award for 2020 will go to Joe Willingham, who was involved in Lakeside athletics for many years as well as being instrumental in the forming of Briarcliff Community Sports, which feed Lakeside many of its athletes. Willingham also was a longtime member of the Dekalb County School Board.
Last year's inaugural class had 30 members and included 11 total football inductees. This year's group will add to that gridiron prowess with its 10 newest members. Among the incoming football standouts are 1978 All-State running back Melvin Dorsey and the quarterback of the Vikings' successful 11-3 1978 team, Mark Fleetwood. Defensive end and 1991 NFL First Round Pick Huey Richardson is also joining the Hall of Fame. Richardson took his talents to the University of Florida following his varsity career and was enshrined in the University's Athletics Hall of Fame in 2003 as one of the all-time "Gator Greats."
Richardson is being joined in the Class of 2020 by former Gator and Lakeside track and field standout Stephen Ott. While at Florida, Ott competed in the high jump and he won the SEC title in 1977. Ott's abilities gave him the opportunity to competing alongside two-time Bronze Medalist and Olympic high jumper Dwight Stones.
All of the Class of 2020 inductees can be found below with his or her corresponding sport. We congratulate all the future inductees. Also, if you are on the following list we would appreciate you shooting us your contact information to ijrosenberg@comcast.net or calling him at 404-246-7819.
LAKESIDE HALL OF FAME INDUCTEES 2020
FOOTBALL (10)
DAVID HENDERSON
JOHN O'NEAL
MELVIN DORSEY
MARK FLEETWOOD
HUEY RICHARDSON
NICK CARMICHAEL
ROCKY KURLAND
DAVID ELDER
CHARLIE GARNHAM
TOMMY BOWEN
BASKETBALL (3)
BRITT FRANKS
LARRY SALE
TORI STEWART
BASEBALL (2)
COACH MARVIN PRUITT
DOUG GILCREASE
SOCCER (5)
JOHN CREVISTON
MERCK SMITH
RONNIE ROBERTS
PETER PAK
CAROL CHILTON
CROSS COUNTY (2)
TONY DIPAOLA
MARK THOMPSON
TENNIS (2)
KELLY THURMAN
PAUL GROTH
SWIMMING (3)
MARGARET SHINE
LIBBA NEWMAN
JAN MICHAELIS-BILTHOUSE
TRACK AND FIELD (2)
RICK ELDER
STEPHEN OTT
GYMNASTICS (2)
COACH SHIRLEY MCDANIEL
LAURA CHURCH
WRESTLING (2)
JOHN KALVELAGE
COACH NICK JANOULIS
CHEERLEADING AWARD
BETH COOLEY
JOHN KICKLIGHTER AWARD
JOE WILLINGHAM