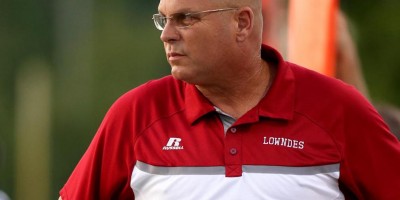 The Lowndes Vikings are entering the early phases of the program's first coaching search since the 2001 offseason following long-time head coach Randy McPherson's retirement announcement Tuesday morning. McPherson served as head coach of the South Georgia powerhouse since the 2002 season and has 37 total seasons of coaching football under his belt. Lowndes advanced to this year's Class AAAAAAA state championship with a flawless 14-0 record, but was defeated by Marietta 17-9. The loss denied what would have been McPherson's fourth state title at the school after the Vikings successfully captured titles in 2004, 2005 and 2007.
On Tuesday morning, McPherson held a team meeting to announce his retirement
"I would like to thank the Lowndes community for having me as their coach for the last 18 seasons," McPherson said in a statement reported by the AJC. "I have decided to retire from coaching after 37 years in coaching, I made this decision before the season began, but I did not want it to be a distraction,'' he said. "I will always be a Viking. I plan to give some time back to my wife that I owe her. God Bless."
The news of McPherson's retirement sets the stage for what is sure to be one of the offseason's most sought after head coaching vacancies. According to the Associated Press's 2015 report on the state's highest head coaches, McPherson's $104,000 salary made him one Georgia's six-figure earners.
McPherson's all-time coaching record stands at 252-55 and he leaves Lowndes with a stellar 181-46 record that includes a 12-6 mark against top rivals Valdosta and Colquitt County. The Vikings will have a ton of returning experience in the 2020 season, including Class of 2022 quarterback Jacurri Brown, who finished his sophomore season with 1,330 passing yards and 1,559 rushing yards.