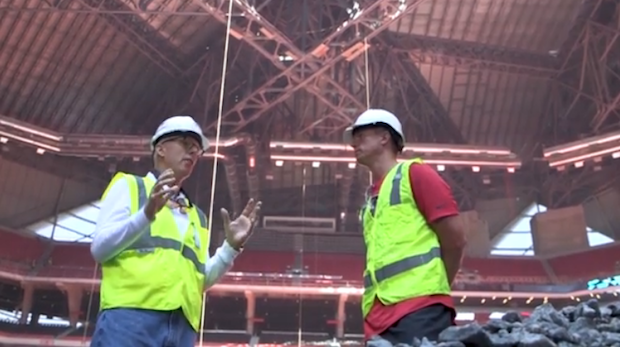 Falcons president/CEO Rich McKay (left) and Matt Ryan. Credit: Atlanta Falcons
Matt Ryan got a special tour of the unfinished Mercedes-Benz Stadium earlier this week, checking out the impressive video boards and other features of the world-class venue. Falcons president and CEO Rich McKay acted as tour guide, showing Ryan the locker room and wowing the quarterback with some impressive dimensions.
The AtlantaFalcons.com video crew came along for the walkthrough and had the NFL MVP mic'd up for the experience.
"I've seen pictures of it and talked to a lot of people in our organization about it, so I know a lot about this place, but even when I walked in, it was just pretty unbelievable," Ryan said.
Falcons Training Camp gets going July 26 in Flowery Branch.