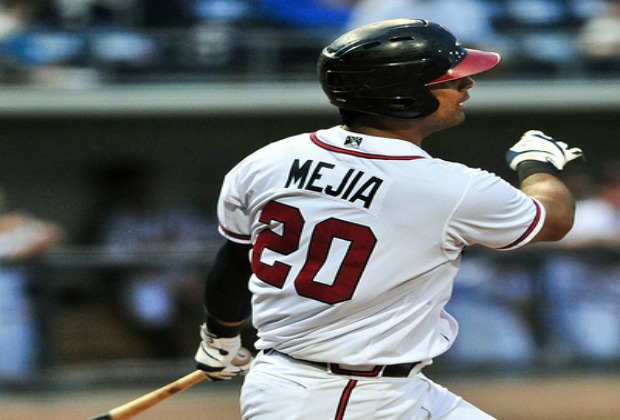 Kyle Hess/Gwinnett Braves
June continues to be a rough month for the Gwinnett Braves as the team's offense sputtered and the pitching has not been nearly as consistent as it was early on in the season. As a result of the dry spell, the G-Braves' stronghold on the International League South Division has vanished as they now look up at the Charlotte Knights, who have been red-hot in June and have opened up a comfortable division lead.
Not all has gone sour for Gwinnett though, as Ernesto Mejia continues to drive the offense, leading the team in all major categories, including an average over .300 to go along with his team-leading home run and RBI totals. Mejia hopes that his stellar play will translate into a spot in the Triple-A All-Star Game, set for July 11.
Meanwhile, Gwinnett still holds out hope that, even though the lineup seems to be changing weekly, the team's mindset will return to what it was at the start of the season when the bats were scorching and contributions were coming from top to bottom. The return of Tyler Pastornicky and Jose Constanza have helped some but without consistency outside of Mejia, the team's struggles have lingered.
The starting rotation has also taken a hit, as Jair Jurrjens has returned to Atlanta after Brandon Beachy was lost for the season. Kris Medlen was expected to remain in Gwinnett in order to develop back into a starting pitcher, but he has also found himself back on the Atlanta squad, to bolster the bullpen. Down the stretch, the team will rely heavily on Julio Teheran and Todd Redmond to produce strong starts as the rotation shuffling continues.
GARTRELL HONORED
Gwinnett outfielder Stefan Gartrell was named the May Topps Player of the Month by the International League on June 22. Gartell's scorching hot month consisted of him batting .333, with a league-high 10 home runs and 23 RBIs in 30 games played in May for Gwinnett. It was Gartrell's second honor of the month, as he was named the IL's Batter of the Week for the week ending May 6. He continues to remain one of the team's most reliable power-hitters in his second season in Gwinnett and is also among the International League's top home run hitters.