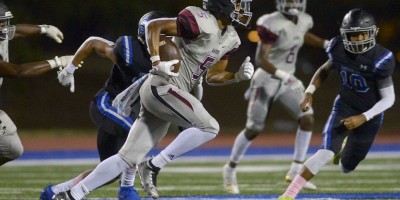 The Fulton County School District is delaying the start of football and all of its fall sports to Sept. 14 following a meeting that was held Thursday between a large group of Metro Atlanta Superintendents to discuss the GHSA's plan to start to the football season on Sept. 4. The primary goal of this meeting was to work towards a consensus between these major districts as some felt more confident about being ready for the Sept. 4 date than others. Early reports indicated that Gwinnett County, Forsyth County and Cherokee County were among the districts that are pursuing the Sept. 4 start date. However, it was learned around 6 p.m. on Thursday that Fulton County decided to push back the its starting date–a move that may force other major districts to follow suit.
We will continue to update this story as more news from the meeting is gathered.
OTHER NEWS:
The GHSA confirmed on Thursday that Our Lady of Mercy became the 12th GHSA program to cancel its football season this fall. In addition to the programs that have called off their fall seasons completely, there are those that have delayed their seasons. Savannah-Chatham County Schools announced that it was going to start its football season no earlier than Oct. 1. Woodville-Thompkins is the only high school program out of the 10 represented within the SCCS district that does not have a football team. Also, Clayton County has suspended all athletics for its 10 member schools until Aug. 21.
"The situation surrounding high school athletics is complex and complicated; however, the safety of our players, their families and our employees is our primary concern," Clayton Schools superintendent Morcease J. Beasley said in a release. "While there are many complicated aspects and varied opinions related to this subject to be considered, we will lean towards prioritizing safety and security through this two-week freeze of athletic activity. Our intention is to do everything possible to avoid cancelling any part of the fall sports season."
GHSA SCHOOLS THAT HAVE CANCELLED FOOTBALL THIS FALL
Class AAAAAA
Heritage-Conyers
Rockdale County
Class AAAA
Doughtery
Monroe
Westover
Class AAA
Salem
Class AA
Riverside Military
Class A-Public
Calhoun County
Stewart County
Twiggs County
Class A-Private
Our Lady of Mercy
Pinecrest Academy