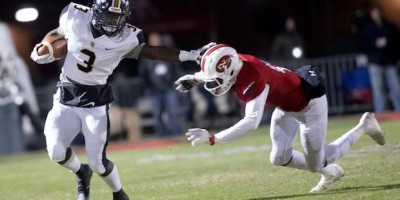 Daijun Edwards (left) in last year's final. Credit: Branden Camp/AJC
Colquitt County's offense will feature two star running backs in 2018. Returning senior Ty Leggett and junior Daijun Edwards will be leading the Packers' by-committee approach.
In 2017, Edwards racked up 1,092 yards on 187 carries and had 14 touchdowns. Leggett, meanwhile, had 1,343 yards on 217 carries and 12 touchdowns.
Edwards weights about 207 pounds, and according to Propst "he's the stronger runner in the box." Leggett is lighter and quicker and considered to be the "home-run back."
However, last year against Brookwood in the Class AAAAAAA state semifinal, it was Edwards who broke off the huge touchdown run with 1:36 remaining to put the game away and send Colquitt County to the championship. "Several times in his career he's broken off 40-plus-yard runs in crucial situations," Propst said.
The security at the running back position forces teams to commit to stopping the run, and this opens up opportunities for the rest of the offense for the Packers.
"To have two backs like that, and to have the depth we have at the running back position, is a very good feeling, especially since we are breaking in a new quarterback," Propst said. Jaycee Harden will move into the starting quarterback position for the Packers in place of graduated QB Steven Krajewski.
"We have five running backs that could get carries on any given Friday night," Propst said. "Our third running back (Mar'Kaybion Spradley) will definitely get seven-plus carries per game. Edwards and Leggett probably will only get between 15 and 20 carries a game."
When asked about the lighter load for the running back duo, Propst emphasized the benefits of fresh legs.
"I have to protect their durability for 15 games," Propst said. "I want them to be fresh going into the quarterfinals, semifinals and the finals if we're fortunate enough to be there, and even late in our region play."
"If you look at our schedule, it is very difficult for a back to hold up all season, so we try to limit their carries as much as we can and do it by committee to make it a balanced attack," Propst added.
Propst is trying to keep Edwards and Leggett fresh, but he is also protecting their future by spreading out touches. Edwards is receiving offers from just about every college football powerhouse, and his early favorites include Georgia, Florida State and Auburn. Leggett is also receiving interest from Power 5 schools, including Pittsburgh, Marshall, WVU and Ole Miss just to name a few.
These Packers return with a vengeance after losing a heartbreaker in the state finals to North Gwinnett. Edwards and Leggett may be the most terrifying backfield duo in the state, and they are ready to lead this offense on another run in 2018.