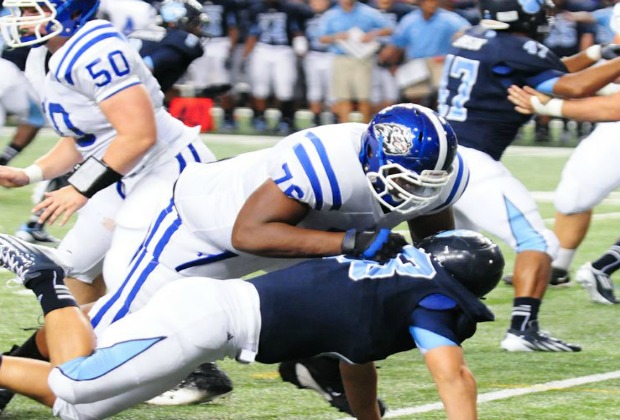 Terance Johnson
The Norcross Blue Devils have not won a region title outright since 2006. The Blue Devils hope to snap that trend when they travel up Peachtree Industrial Boulevard to face the Lions of Peachtree Ridge (3-4) this Friday. Norcross has started the 2012 season 8-0 with a 6-0 mark in Region 7-AAAAAA play. The Blue Devils knocked off three-time defending Region 7-AAAAA champion North Gwinnett in early September before knocking off Collins Hill on the road and Mountain View last week. Alvin Kamara and the Blue Devils need just one win in their final two games to clinch the region title, but Norcross may have to win out to ensure an outright crown. Kamara rushed for 312 yards and three scores in the win against Collins Hill and is considered by the recruiting services to be the top running back in the state. Senior Joseph Wilber has been more than serviceable at quarterback and Myles Autry has been difficult for defenses to find all season long.
Defensively, the Blue Devils are anchored by Lorenzo Carter, a talented junior defensive end. Shon Akins is a star at cornerback and is headed to California.
Mark Fleetwood's squad has seen some close games get away this year but is right on the cusp of posting a huge victory. The Lions held Parkview's Chris Carson out of the end zone but fell to the Panthers 3-0 before losing to Mill Creek 20-10. The offensive line is the strength of the team with Daniel Stephens and Orlando Brown offering plenty of push up front. Bryson Sellers sets up under center with Myron Burton and Joe Horn serving as his main weapons.
The running game has been what the Lions have truly leaned on this year, including last week in Peachtree Ridge's win over Mountain View. While Walden Davis has been Fleetwood's workhorse, the Lions coaching staff held Davis out with an injury, allowing Jordan Ellis, Trevor Campbell and four other rushers to tally 339 yards and four touchdowns on 49 carries. Ellis totaled 207 yards and three scores on 27 carries. Campbell rushed 11 times for 104 yards and one score. This game could move fairly quickly if both teams carry the ball with their power running games.