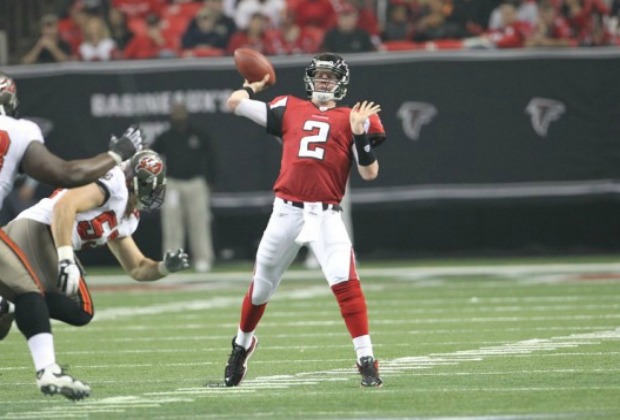 Jimmy Cribb/Atlantafalcons.com
Mike Smith and Matt Ryan both came to the Atlanta Falcons before the 2008 season. Ryan was named the NFL Offensive Rookie of the Year that year and joined Peyton Manning as the only other rookie to pass for 3000 yards. He took the Falcons to the postseason, and Smith, who decided to start the rookie Ryan, was named NFL Coach of the Year.
The Falcons faced the Cardinals that postseason, falling in a 30-24 contest. Inexperience vindicated the loss, and the phenomenal NFL debuts of Ryan and Smith silenced any doubt that this would become a trend.
Injuries kept the Falcons outside of the 2009 playoffs at 9-7, but they returned in 2010 and 2011. Ryan's regular season numbers kept improving, but the team's playoff performances worsened. Aaron Rodgers and the visiting Packers gave the Falcons a 48-21 thrashing in 2010, and the Giants shutdown the Falcons in a humiliating 24-2 defeat last year.
Four straight winning seasons under Ryan were eclipsed by an 0-3 postseason record.
Without a postseason resume, Ryan's career remains obscured. Ryan's counterparts, Eli Manning (twice), Aaron Rodgers and Drew Brees have taken four of the past five Super Bowl MVPs, and we witnessed two of the all-time great quarterbacking performances come out of the NFC South last season, neither coming from Ryan.
Brees broke the NFL's all-time single-season passing record with 5,476 yards with 46 touchdowns while completing 71.2-percent of his passes. Last year's rookie of the year Cam Newtown broke the all-time rookie passing record with 4,051 yards and 21 touchdowns, as well as the NFL's all-time rushing record for a quarterback with 14 touchdowns and 706 yards with Carolina.
Mike Nolan enters his first season as the Falcons defensive coordinator and looks to slow down these NFC South gunslingers in 2012. The Falcons have a new coordinator on offense as well with Dirk Koetter, and Ryan has had the whole offseason to master the new Koetter playbook. According to sources, Ryan started his offseason early and extended it in order to improve his strength and conditioning. He wanted to assure he would be at his best come the playoffs.
Ryan must get his Falcons through a conference of hungry quarterbacks to get his due this year. Manning, Brees, Rodgers, Tony Romo, Matt Stafford, Michael Vick and Newton are all seeking the same prize in 2012, and if Ryan can lead the Falcons on a playoff run, his previously overshadowed seasons will finally obtain their merit and move into the spotlight with him.