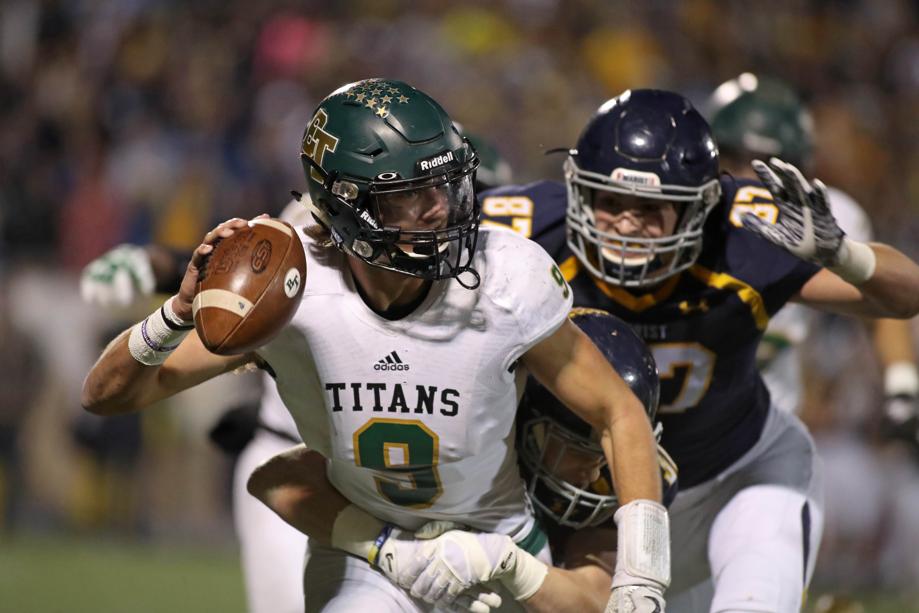 Class AAAAAA preseason No. 1 Colquitt County closed out its perfect regular season with another impressive victory—40-6 over Lowndes.
Top-ranked Lee County has also gone wire-to-wire and has had a hold on AAAAAA as it enters its first round playoff game against Mundy's Mill. Creekview, Valdosta, Northside-Warner Robins and Stephenson round out the top-5.
Rome and Buford headline a strong top 6 in Class AAAAA that features Dutchtown, Warner Robins, Wayne County and an emerging Southwest DeKalb squad that finished the regular season 10-0.
Defending champion Blessed Trinity leads Class AAAA, and Cartersville's 43-10 win over Troup was enough to lift the Purple Hurricanes to No. 4 and send Troup down to No. 8.
In Class AAA, Calhoun's the team to beat, again, with second-ranked Cedar Grove chasing, again. The only shift was Westminster's slide to tenth, allowing Benedictine into the top-5. Unbeaten Pierce County enters the rankings at No. 8.
Hapeville has a hold on Class AA again this week with Rockmart, Heard County, Callaway and Brooks County chasing.
Eagle's Landing Christian is hunting for another state title and the top-ranked Chargers have held the No. 1 rank all season. Athens Academy, Prince Avenue, George Walton and Savannah Christian round out the top-5.
Class AAAAAA
1. Colquitt County
2. Parkview
3. Grayson
4. Hillgrove
5. Roswell
6. Walton
7. North Gwinnett
8. Westlake
9. Archer
10. Milton
Class AAAAAA
1. Lee County
2. Creekview
3. Valdosta
4. Northside-Warner Robins
5. Stephenson
6. Harrison
7. Dacula
8. Johns Creek
9. Tucker
10. Sequoyah
Class AAAAA
1. Rome
2. Buford
3. Dutchtown
4. Warner Robins
5. Wayne County
6. Southwest DeKalb
7. Stockbridge
8. Jones County
9. Kell
10. Carrollton
Class AAAA
1. Blessed Trinity
2. Mary Persons
3. St. Pius
4. Cartersville
5. Eastside
6. Marist
7. Pickens County
8. Troup
9. Flowery Branch
10. Cairo
Class AAA
1. Calhoun
2. Cedar Grove
3. Monroe Area
4. Peach County
5. Benedictine
6. Greater Atlanta Christian
7. Dawson County
8. Pierce County
9. Jefferson
10. Westminster
Class AA
1. Hapeville Charter
2. Rockmart
3. Heard County
4. Callaway
5. Brooks County
6. Bremen
7. Dublin
8. Rabun County
9. Dodge County
10. Washington County
Class A-Private
1. Eagle's Landing Christian
2. Athens Academy
3. Prince Avenue Christian
4. George Walton Academy
5. Savannah Christian
6. North Cobb Christian
7. Fellowship Christian
8. Calvary Day
9. Mount Paran Christian
10. Darlington
Class A-Public
1. Irwin County
2. Clinch County
3. Pelham
4. Marion County
5. Mt. Zion
6. Charlton County
7. Greene County
8. Schley County
9. Commerce
10. Mitchell County