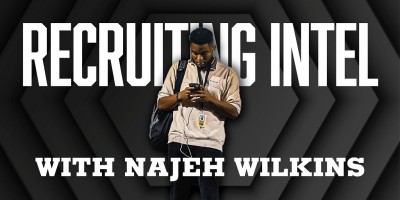 Wyatt Sonderman will be a two-way starter this season for the Walton Raiders. Head coach Daniel Brunner called him the best cover safety on the team. Sonderman also flashed a lot on the defensive side of the ball this summer, especially in the Hoover National 7-on-7 tournament in Alabama where had multiple big plays and interceptions. Sonderman has bulked up and is excited about his new role on defense.
"Having coach Morgan Burnett who is a former All-pro NFL safety he definitely slows the game down. It's a lot easier," said Sonderman. "They have me playing a lot of center field and working towards my strengths which is being explosive and going to get the ball when it is in the air. I use my athleticism and make sure I know all the coverages but Coach Mo and Coach Allen make it really simple. I credit them the most. I work to my advantage by being a former baseball player and going to get balls in the outfield. It's kind of the same thing."
Last season Sonderman was a big play machine and was tied for the most touchdowns on the team. His big play ability helped stretch the defense and kept them honest if they stacked the box he was left single-covered. Sonderman has even bigger goals in 2023.
"I credit Coach Cooper. All of his drills are like NFL tricks of the trade-type stuff.  Being explosive every day you get that from the weight room and doing squats. The yards are good but touchdowns are what I am going after. I am aiming for 15+ touchdowns. I had 12 regular-season touchdowns last year so I think 15 is very doable. I will try to go for 15-20."
"On defense I want to have 7-10 picks. I always watch the Sean Taylor videos and he was punching the ball out, so I definitely want to have some forced fumbles. I have been working on it at practice too. That is something you will see me trying to do whenever I get a chance. I am trying to punch that thing out."
Currently, he has offers from Shorter, Fordham, Georgetown, UMass, Wofford, Charles Southern, and more. Sonderman talked about some offers and the recent one he received from Jacksonville State.
"I talked to Coach Garrett (Jacksonville State WR Coach) about a month ago and he said we watched your film. I am going to put it in front of head coach Rodriguez (Jacksonville State head coach) and the offensive coordinator," said Sonderman. "It went back and forth just texting and Twitter DMs. He called me and was like we watched the film and we think you are a great fit. They offered me a scholarship which I am very thankful for. I was blessed to receive that offer."
"I was blessed to go on a couple of visits. I went to see Georgetown and they offered me. I love the coaching there and it's a great education. They check up on me weekly. Jacksonville State and Georgetown talk to me weekly. I went to visit Charles Southern and love the coaches there. I have eight offers which I am blessed to have but right now I am more worried about us and winning ball games."
Sonderman also threw out a few dream schools that best fit the player he is and complements his game well especially because they air the ball out and play spread offense.
"Everyone wants to play Power 5 but I would love to go somewhere that runs the spread and throws the ball. You know Wake would be a great offer to go and to play with Jeremy Hecklinski. I think if I played with Jeremy I could make an impact quickly because we have a really good connection," said Sonderman. "I would say either Miami or Wake. Miami because I love the U. I remember growing up and watching the documentaries and I wanted to be like those dudes. I model my game after a lot of those dudes. On defense, I am trying to be like Sean Taylor and on offense I am trying to be like Michael Irvin. You know schools that just throw the ball and are winning games."
Star QB Jeremy Hecklinski and Sonderman have a lot of chemistry on the field. It comes from getting in reps every day and continuing to get stronger this past summer. Expect the tandem to have a big season in 2023.
"I mean me and Jeremy that goes back about five or six years now when we started playing together. I have caught a lot of footballs from him," said Sonderman. "In pretty much every play we are on the same page. We know what is going to be open and I know he is going to come to me. It feels like we are thinking on the same wavelength."
Sonderman will play a vital role for the Raiders this season on both sides of the ball and will be a key component of their success in 2023 as they try and contend for a 7A state title.