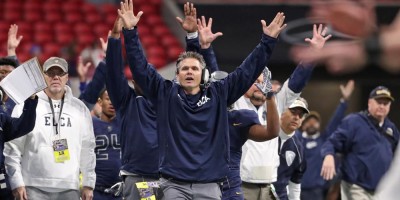 ELCA HC Jonathan Gess during last year's Class A title game. Credit: Jason Getz/AJC
Class A saw the addition of ACE Charter and Trinity Christian to the GHSA ranks, and the largest class by number of schools (88) has all of its powerhouses back. Will anyone be able to challenge Eagle's Landing Christian in the private ranks, and does Clinch County have enough to repeat on the public side?
Note: Private schools denoted by asterisk.
Region 1: Baconton Charter; Calhoun County; Chattahoochee County; Miller County; Mitchell County; Pataula Charter; Pelham; Randolph-Clay; Seminole County; Stewart County; Terrell County
Region 1 saw a shift in power as first-year head coach Deshon Brock led Mitchell County to its first double-digit-win season since 1999, earning the team's third region title in eight years. The Eagles went undefeated in their classification, shutting out five of their region opponents with a fairly young team that is bound to keep excelling. Entering his 20th year as head coach of Terrell County, Vincent Huff has accumulated a great deal of experience within the region when compared to the three second-year coaches and one first-time coach in Region 1. However, the team's 2017 season had only four returning starters on both sides of the ball, and without standout quarterback Detravion Bishop the Greenwave put together a 3-7 record, their worst since 2011. After coaching a season with Northeast, Ashley Harden took over as head coach of Stewart County. Harden's 47 percent win rate as a head coach would already be a step up for the Royal Knights, being that they haven't had a .500 season in school history. This may turn out to be the most competitive region in Class A.
Region 2: Atkinson County; Charlton County; Clinch County; Irwin County; Lanier County; Telfair County; Turner County; Wilcox County
The Region 2 top competitors saw similar success through the 2017 season. Jim Dickerson capped off his 14th season at Clinch County with a state title, the school's second in three years. The loss of senior quarterback and all-around athlete Charles McClelland will surely leave a void to fill, but whoever steps in won't have to find success alone. Wide receiver Jeremiah Johnson will be a returning junior along with senior and Georgia commit Trezmen Marshall, who will work heavily on both sides of the ball at running back and linebacker. Falling to Clinch County in the state title game was region rival Irwin County, whose impressive season makes them an instant contender to return to the finals again this upcoming season. Head coach Buddy Nobles coached his squad to its third region title in four years, going a flawless 7-0 within the region. After head coach Ben Simmons left Turner County to take charge of the Worth County Rams, Leroy Hood stepped in. Turner County's 6-5 record is unlike the production the Rebels have seen in recent seasons, but the loss of star wide receiver Tamorrion Terry and defensive back Ontario Wilson undoubtedly had an effect on the offense. Now with one year under his belt with a new team, Hood will have a better grasp on a team that competes strongly within the region.
Region 3: Calvary Day School*; Claxton; Emanuel County Institute; Jenkins County; Johnson County; McIntosh County Academy; Montgomery County; Portal; Savannah Christian*; Savannah Country Day*; Treutlen; Wheeler County
Div. A
Calvary Day produced a strong campaign in Region 3, going undefeated in all region matchups for its second-consecutive year. Entering his 11th year as head coach, Mark Stroud has accumulated three region titles in five years and will look to capitalize with a team that can expect to produce again. The loss of defensive end and offensive lineman Sayyid Stevens, who now plays at Duke, leaves the defense with a void. Offensively, senior running back and cornerback Jalen Leary will be a featured piece of the Cavaliers offense. Leary rushed for over 1,400 yards last season and will look to keep up high production during his senior campaign. In his ninth season as head coach of Savannah Country Day, Dennis Coyle led his Hornets to their first ten-win season in 12 seasons. The loss of nine seniors, including a workhorse running back in Adam Byck, leaves the team with some holes to fill on both sides of the ball. Senior tight end Chris Pendleton has been a consistent piece of this offense during his varsity career and will be looked at heavily by junior quarterback Logan Ziegler as a playmaker.
Div. B
Division B of Region 3 continues to be owned by Emanuel County Institute. Since head coach Chris Kearson's arrival in 2011, the Bulldogs have amassed four region titles, winning three straight heading into the 2018 season. They have lost only two region games, going undefeated within the region since 2014. Add their 2012 state title to their list of accolades and it's not hard to see why their success continues. Four-star senior defensive end Curtis Fann, a Florida State commit, will be a tremendous presence on defense while using his size and pass-catching ability at the tight end position. Right behind the Bulldogs will be Jenkins County, whose 8-4 record last season marked the school's best record since 1966. Jenkins County will rely on a senior-heavy squad with experience to help keep them at a level close with Emanuel County Institute.
Region 4: Brookstone*; Central-Talbotton; Crawford County; Dooly County; Greenville; Hawkinsville; Macon County; Manchester; Marion County; Schley County; St. Anne-Pacelli*; Taylor County
Div. A
Since their transition from Class AA to A in 2016, Manchester has gone undefeated in Region 4, leading to the 2017 region title. The loss of players like linebacker Jontavious Ferguson and linebacker Kevin Turner weakens this team's defensive play, but superior lines on both sides of the ball will help keep the Blue Devils in every game. Right behind them is Marion County. Head coach Chris Kirksey came into the program in 2016 after an 11-year run at Taylor County. Helping the team return to form will be senior running back Travon Mathews, who led the team with 1,318 rushing yards in 2017. Marion County will open up its 2018 season against Region 4 opponent Schley County, whom they've beaten nine out of their last 10 matchups.
Div. B
Macon County made the move from Class AA to A in 2016 and has been dominant. The program won a region title and state championship in 2016 under Dexter Copeland, who now enters his fourth year as head coach of the Bulldogs. Star running back Aukeeveous McLendon's graduation takes away one of the offense's key weapons, but other teammates are expecting to step in and create production. Sophomore quarterback Jakalen Williams provides opportunity on the ground and through the air. He'll look to receivers Anquaveon Brown and Jaryan McBurse to come up with big receptions.
Region 5: Eagle's Landing Christian*; Holy Innocents'*; Landmark Christian*; Mt. Vernon*; Our Lady of Mercy*; Strong Rock Christian*; Trinity Christian*; Wesleyan*
Jonathan Gess is heading into his 12th season as Eagle's Landing Christian's head coach and is looking to expand on his team's three-year state-championship streak. Senior quarterback Braden Rush returns to the field for his senior campaign to head the explosive Chargers offense. On the other side of the ball, their defense gave up only 22 points to opposing Class A teams throughout last season. The once senior-heavy squad will have to find success with others like defensive back Micah Smith to maintain that level of play in the upcoming season. The Wesleyan Wolves have placed top three in Region 5 for the past two seasons. Sophomore quarterback Andrew Van Wie loses tight end/receiver Stewart Stamper but will have no trouble relying on senior receiver Grant Summers to make big plays. After claiming the GISA Class AAA Region 1 title during his first year at Trinity Christian, head coach Matthew Schock and the Lions make the leap to GHSA.
Region 6: Bowdon; Christian Heritage*; Darlington*; Fellowship Christian*; Gordon Lee; King's Ridge*; Mt. Paran Christian*; Mt. Pisgah Christian*; Mt. Zion-Carroll; North Cobb Christian*; Pinecrest Academy*; St. Francis*; Trion; Walker*; Whitefield Academy*
Div A.
Longtime Darlington head coach Tommy Atha saw his worst record (6-4) with the Tigers since 2009 during last season's campaign. Looking to help fuel a bounce-back season is junior quarterback Griffin Brewster. His first region opponent in 2018 will be the Gordon Lee Trojans, a favorable matchup that the quarterback has previously taken full advantage of. Casey Gunn can be expected to have an increased role in the offense after an impressive freshman outing, and because of the absence of Tijai Whatley, who is now at Georgia Tech. Mt. Zion-Carroll has only lost one region game in two seasons. Mt. Zion's loss came against Trion last season, but the Eagles are looking for an undefeated record in Region 6 behind junior quarterback JD Hindsman and senior running back Breon Henderson.
Div. B
Mt. Paran Christian went undefeated in Region 6 for the third time in school history in 2017 and won its second region title. The Eagles lose running back Chandler Webber, who graduated following a stellar senior season, but Mt. Paran will look now to senior back Cam Moore to fill in. Senior quarterback Kyle Terry and junior quarterback Niko Vangarelli will both head an offense that averaged over 34 points per game last season. The Mt. Pisgah Christian Patriots haven't had a losing season since entering Region 6 in 2012 and saw its second-best season in school history last year under head coach Mike Forester. Star quarterback Jacob Cendoya's graduation means Mt. Pisgah will need to find a replacement under center. All-Region safety Connor Norwood returns after an electric junior season to help lead the defense. After going undefeated in the region during 2016, Fellowship Christian failed to have a positive record (3-4) in the league in 2017.
Region 7: ACE Charter; Aquinas*; First Presbyterian*; Georgia Military; Glascock County; Greene County; Hancock Central; Lincoln County; Mount de Sales Academy*; Stratford Academy*; Tattnall Square Academy*; Twiggs County; Warren County; Washington-Wilkes; Wilkinson County
Div. A
Stratford Academy has gone undefeated in Region 7 in two of the past three seasons. Last season, the Eagles defense allowed just over 10 points a game to opposing teams within the region. Christian Palmer returns as a senior leader and starting quarterback along with offensive weapon and running back Deondre Duehart. Entering his 20th year as head coach of First Presbyterian, Greg Moore is looking to lead the Vikings to their best region performance since 2011, when they went 5-1. They lose starting quarterback Dalton Cox but retain the majority of their offensive pieces. After going undefeated in the region during 2016, the Twiggs County Cobras failed to claim a region win last season. First-year head coach Kelvin Blackshear will look to return the program back to where it was during strong 2015 and 2016 campaigns.
Div B.
Since taking over in 2013, James Leonard has coached the Aquinas Fightin' Irish through a few historic seasons. Winning region titles in four of his five seasons along with a state title in 2013 shows promise that Aquinas will be back at the top this upcoming season. Quarterback John Paul's graduation makes room for quarterbacks Patrick Cordaro and Stephen Webster to take charge and control the offense. They'll look to senior wide receiver John Parrish often as one of the only returning main pieces from last season's offense. Since leaving Region 8-AA and entering Region 7-A in 2016, Washington-Wilkes has had no issues competing with opposing region teams. The team loses quarterback Braden Lamar but has depth with Donovan Anthony and Justin Meyers, who can step up and take control of an offense that averaged over 27 points last season.
Region 8: Athens Academy*; Athens Christian*; Commerce; George Walton Academy*; Hebron Christian Academy*; Lakeview Academy*; Prince Avenue Christian*; Providence Christian*; Riverside Military*; Towns County
Athens Academy dominated Region 8 last year. A perfect 2017 season came to an end during the Class A-Private state finals against ELCA, but the Spartans are returning a good majority of their key players. Senior quarterback Jack Thomas returns to continue running the hard-hitting offense composed of talented skill players like sophomore receiver Deion Colzie and running back Len'neth Whitehead. Whitehead will also provide a huge presence on defense as an outside linebacker. Another strong team in Region 8 is Prince Avenue Christian, which has claimed the majority of the region title within the past eight years (5). The Wolverines have gone 25-1 in region games through the past three seasons and have plenty of returning talent to have a similar outing during 2018. Christian Parrish, who played a crucial role in the offense during their 2017 playoff run to the semifinals, is a talented receiver who will play heavy snaps, and senior cornerback Mack Simmons is a ball hawk. The Commerce Tigers have lost two or fewer region games in a season for the past five seasons; their only region losses last season came against Athens Academy and Prince Avenue, the top dogs in the league. Senior running back Nick Patrick has proved to be a reliable red-zone threat with the ability to punch the ball into the end zone. Junior quarterback Nate Ray returns to head an offense that put up almost 33 points per game last year. He'll be paired with offensive weapons like senior running back Dajuan Wood and sophomore back Tyelon Brock, who make up a dangerous backfield with big-play ability.