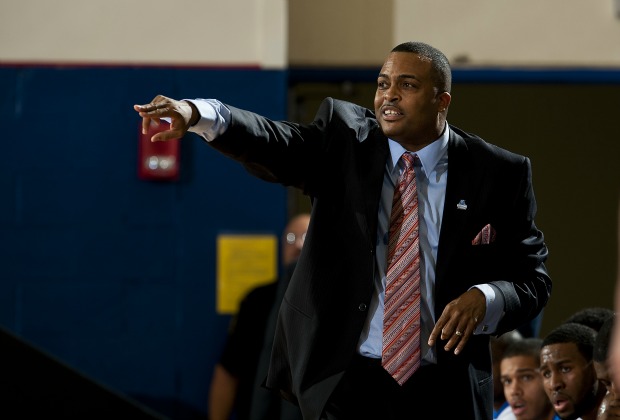 Official GSU press release
Louisville's Kevin Ware, who was a key reserve in the Cardinals run to a national championship a year ago, has announced that he will transfer to Georgia State. Ware starred at nearby Rockdale County High School just outside Atlanta.
His paperwork has been accepted and he will start classes and practice with the Panthers this summer.
Ware played nine games this past season as a junior before being sidelined with an injury. He is expected to request a medical redshirt to have two years of eligibility remaining with Georgia State.
During Louisville's run to the national championship in 2013, Ware averaged 4.5 points in 16.6 minutes per game as the first guard off the bench. That season he shot 44.7-percent from the floor and 40.5-percent from 3-point range, swiping 39 steals.
As a high school senior, he led Rockdale County to a 26-6 record and state runner-up finish, averaging 13.2 points, 4.1 assists, 3.9 rebounds and 2.2 steals per game. He was named first-team all-state and was rated by Rivals.com as the No. 70 overall prospect in the class of 2011. He was also listed as the No. 94 prospect in the ESPNU Top 100 and was rated 99th nationally by Scout.com.
"Kevin is a very talented guard who I am glad decided to come home to finish his collegiate career after a tough injury he went through at Louisville," head coach Ron Hunter said. "He is going to be a valuable addition to our team and I look forward to getting to work with him when practices begin.
"Since my arrival at Georgia State, we have had several student-athletes who wanted to transfer home and have been positive additions to the program. I have no doubt in my mind that Kevin will join that group and we are glad that he will get to play in front of his family again."
Ware is unfortunately best known a gruesome leg injury he suffered in Louisville's run to a national championship against Duke. With 6:33 to play in the first half of that game, Ware broke his right tibea just in front of the team bench. The injury and his teammates reaction to it became an international story on the Cardinals run to a title. Ware became the fourth-most searched athlete in the world in 2013 on Google due to the injury.
Ware will request a waiver to play immediately for Georgia State. NCAA policy is that he would have to sit out one year before being eligible to play for the Panthers.
Coming off its Sun Belt Championship and Postseason NIT berth, Georgia State will return three to the starting line-up for the 2014-15 season.