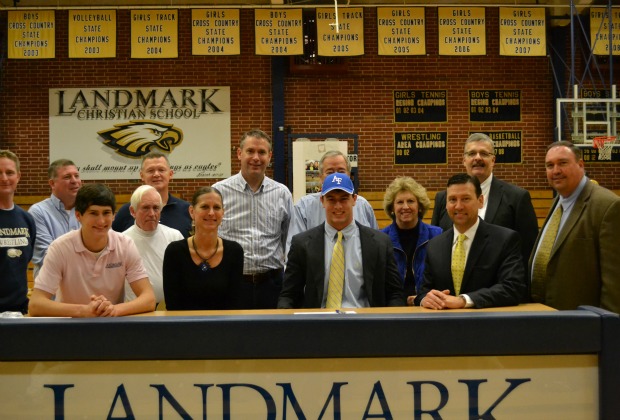 Landmark Christian
The annual rite of passage known as National Signing Day took place this past Wednesday with football prospects from across the state putting pen to paper to officially sign with various college and university football programs. The eyes of the nation rubbed any remaining sleep away when the No. 1 recruit in the country, Grayson's Robert Nkemdiche, declared on national television that he was headed to the "University of Ole Miss."
Nkemdiche's announcement got the ball rolling for everyone as fax machines started chugging along, solidifying the futures of current high school players as they look to compete at the next level.
EAGLES SOARING …
Milton High School also got an early start to National Signing Day 2013 as nine Eagles signed letters of intent to play football at the next level beginning at 7:30. Eason Fromayan was not in attendance as he is already in Fort Worth with the TCU Horned Frogs program, but two of his fellow linemen got the Milton signing ceremony started as Josh Harris and Cory Helms inked their letters of intent to Wake Forest. Noah Allen, a defensive tackle, then signed with Army before Malik Mitchell signed with Northern Illinois. Three Eagles would go on to become Auburn Tigers, including running back Peyton Barber and the Score Final 50 No. 1 player Carl Lawson.
ESPNU was on hand to capture Lawson officially signing with Auburn, but before the cameras began rolling, Milton principal Cliff Jones addressed the recruits, family members and football teammates that had all made their way to the auditorium to celebrate the 12 student-athletes who would be accepting scholarships to pursue an education at the next level.
"It's an amazing smile when a student signs that piece of paper, but how many of you would be here if not for the parents in this room?" said Jones. He was quick to praise the athletes but also each's support network that helped out along the way.
GEORGIA HIGHS …
While Milton and Grayson's ceremonies were sending countless players out of the state to pursue the dream of college football, Kell's Brendan Langley was signing a letter of intent to join teammate Quincy Mauger in Athens. The two defensive backs that helped Kell to a 10-2 season last year will now try to help the Georgia Bulldogs win the SEC Championship Game, a feat that has eluded them the past two seasons.
Elsewhere in Atlanta, many members of the Bulldog Nation waited with great anticipation as Davin Bellamy sat down at Chamblee High School just after 11:40 a.m. Wednesday to decide between Georgia and Tennessee. The former Florida State pledge had thrown the recruiting world a curveball by re-opening his recruiting process after coaching changes at Florida State and Georgia caused him to rethink his commitment to the Seminoles.
Rumors circulated that Georgia had the inside track to land the Chamblee defensive end, but in the days leading up to National Signing Day, Bellamy noted that he liked Tennessee and even Oregon, where he visited the final weekend of the recruiting cycle.
Bellamy told those in the school's media center that he had been dealing with one of the toughest decisions in his life.
"For the last couple of days, I was getting a lot of phone calls from coaches," admitted Bellamy to reporters and others in attendance. "I just wanted to go with a gut feeling and my gut feeling told me to stay in town."
Bellamy announced his pick by pretend- ing to reach for a Tennessee hat before smiling and grabbing the Georgia hat. The room broke into applause following his announcement.
THE OTHER GUYS …
While the Kell cornerback and the Chamblee defensive end will be fine signing day-additions for the Bulldogs, each player sat beside teammates also making a college choice, though not everyone was headed to a major program.
Chamblee's other six student-athletes were headed to schools such as Presbyterian College, the University of Charleston and the Air Force Academy. Milton's other players not going to Auburn or Wake Forest were deciding to go to Northern Illinois and West Point.
Mercer will take the field for the first time this year and 15 players from across the state submitted paperwork declaring their intentions to help the program get off the ground. North Gwinnett's Michael Hayes, Johns Creek's Sam Arrington, Peachtree Ridge's Andrew Stanley and Devin Davidson and Cherokee's Tunde Ayinla were just a few of the Peach State natives to sign with Bobby Lamb Wednesday.
Georgia State and Georgia Tech also re- ceiving more than their fair share of Georgia players. Westminster kicker Harrison Butker and Lovejoy's Travis Custis joined McEachern's Ty Griffin, Tri-Cities' Shamire Devine and Fayette County's Antonio Messick to sign with the Yellow Jackets Wednesday. Paul Johnson got a treat when Sandy Creek's Corey Griffin and Cairo's Paul Davis were late additions to the class.
Georgia State received a stud in Kight Dallas, who committed to the Panthers out of Stephenson along with North Gwinnett's Alex Stoehr and Columbia's Mackendry Cheridor.
While college football fans so often get caught up in stars, depth charts and a recruit's ranking, it is refreshing to see a parent beam with pride, proud that his or her son was able to take his athletic talent and parlay it into a chance at a top quality education.
At Chamblee, Bellamy's uncle got up after the defensive end announced his decision and proceeded not just to congratulate Bellamy for his decision but also Bellamy's mother, who reared him as a single parent.
"I am so proud of her and how she was able to do it alone," he said. "It was so hard, but she did such a good job and look how great he turned out."
Khari Rosier's mother entertained the Chamblee crowd with a story of his first practice and how he wanted to quit, but she wouldn't let him. The inspirational story brought goosebumps to the room and Rosier embraced his mother afterwards with a hug that earned a round of applause.
National Signing Day proved once again to not just be a glorious hope of what could happen in the future but also a celebration of the efforts put in by the student athletes and their families in the past.