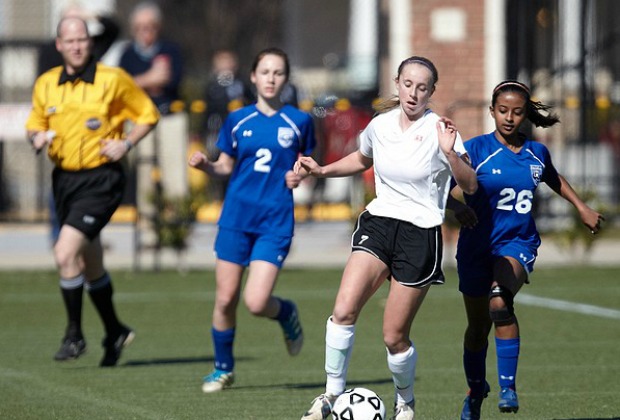 Nill Toulme
The semifinals will get underway for the state soccer playoffs starting tonight with the girls games before being completed Wednesday with the boys games. In each of the 12 classifications, there are several interesting notes about the teams and players involved.
Boys
AAAAAA: No. 8 Berkmar is making its first semifinals appearance ever after winning Region 8 and defeating North Cobb 6-0 in the quarterfinals. No. 5 Harrison got here by upending second-ranked Centennial 2-1 after a goal by Nathan Vickroy with six minutes left gave the Hoyas the lead. No. 9 Collins Hill, winners of three of the last four state titles, is back in the semifinals despite losing six key players to the U.S. Development Academy in the offseason.
AAAAA: McIntosh is ranked No. 1 in the nation by NSCAA.com and has scored three or more goals in each game since March 1. Senior goalie Sergio Saleh heads a tight defense that has given up just two goals all season.
AAAA: Three of the four semifinalists hail from Whitfield County in northwest Georgia. No. 1 Dalton (20-0) heads the group, all three of which are from Region 7.
AAA: No. 1 St. Pius is the favorite after not allowing a goal in the playoffs.
AA: Region 6 has three teams in the semis. Buckhead rivals Lovett and Westminster are joined by Greater Atlanta Christian.
A: No. 1 Paidiea is led by Eli Pinner, who has scored 37 career goals.
Girls
AAAAAA: Unranked South Forsyth is a bit of a Cinderella after losing its last two regular season games and three of its last five. Rachel Shah scored four goals in the quarterfinals for the War Eagles. No. 1 Harrison plays No. 6 Brookwood, which beat the Hoyas 2-0 in a preseason exhibition.
AAAAA: All four semifinalists are from Region 4, led by No. 1 Whitewater which went 10-0 in region play. McIntosh won the past two Class AAAA titles and leads the state with eight girls soccer state championships.
AAAA: No. 1 Marist has won its three playoff games by a combined score of 28-0 and is the highest-ranked Georgia girls squad in the NSCAA.com rankings at No. 7.
AAA: The Final Four is made up of all metro Atlanta teams, including three from Region 6. Combined, the four squads have given up just two goals in the playoffs.
AA: All four semifinalists hail from Region 6. Wesleyan finished 0-6 in region play, but won its three playoff games to advance here.
A: Two-time defending state champion First Presbyterian (17-1-2) has not lost to an in-state team all year and has defeated every Class A opponent it has faced.
Soccer pairings
Semifinals
Girls
Tuesday, March 14
Class AAAAAA
South Forsyth at Parkview
Brookwood at Harrison
Class AAAAA
Starr's Mill at Whitewater
McIntosh at Northgate
Class AAAA
Columbus at Veterans
Marist at Heritage-Catoosa
Class AAA
St. Pius X at Buford
Woodward Academy at Blessed Trinity
Class AA
Wesleyan at Greater Atlanta Christian
Lovett at Westminster
Class A
First Presbyterian at Paideia
Fellowship Christian at Aquinas
Boys
Wednesday, May 15
Class AAAAAA
Semifinals
East Coweta at Berkmar
Harrison at Collins Hill
Class AAAAA
Starr's Mill at Houston County
Pope at McIntosh
Class AAAA
Southeast Whitfield at Northwest Whitfield
Spalding at Dalton
Class AAA
Woodward Academy at East Hall
Oconee County at St. Pius X
Class AA
Lovett at Westminster
Greater Atlanta Christian at Calhoun
Class A
First Presbyterian Day at Hebron Christian
Savannah Christian at Paideia