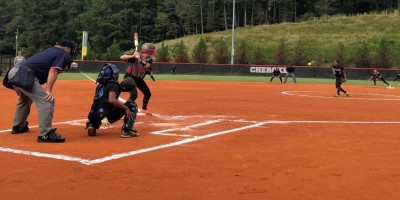 Softball games and volleyball matches continued Tuesday and on the softball field, Class 4A No. 1 Heritage-Catoosa defeated Cedartown 10-1 in the first of a double-header to move to 9-1 on the season.
Madeline Stone was 2-for-5 with two RBIs and Riley Kokinda was 3-for-5 with three RBIs and a stolen base. Rachel Gidson allowed three hits with 15 strikeouts in seven innings pitched.
In a Class AA/A-Public matchup on the volleyball court, No. 10 Dade County outlasted Chattooga 2-0. The Wolverines narrowly won the first match 26-24 and controlled the deciding match 25-16.
See the rest of the scores below.*
Softball
Buford 8, Winder-Barrow 0
Central-Talbotton 13, Southeast Whitfield 0
Crisp County 3, Pike County 2
Georgia Military 6, Glascock County 0
Hawkinsville 5, Treutlen 3
Heritage-Catoosa 10, Cedartown 0
Hillgrove 13, Marietta 5
Kennesaw Mountain 13, Sprayberry 1
Marist 13, Woodward Academy 1
McEachern 13, Campbell 1
Oglethorpe County 24, Laney 0
Pataula Charter 6, Miller County 5
Taylor County 14, Jordan 0
Union County 9, Fannin County 0
Veterans 8, Ware County 0
Vidalia 11, Jeff Davis 5
Wayne County 3, Coffee 1
Wilcox County 2, Johnson County 1
Worth County 14, Fitzgerald 0
Volleyball                                                                                                       
Buford 2, Central Gwinnett 0
Buford 2, Dacula 0
Cartersville 2, Cass 0
Cartersville 2, Woodland-Cartersville 0
Dacula 2, Central Gwinnett 0
Dade County 2, Chattooga 0
Dade County 2, Ringgold 1
Eagle's Landing Christian 3, Landmark Christian 1
Gilmer 0, Jackson County 0
Harlem 2, Cross Creek 0
Hebron Christian 2, Galloway School 0
Hebron Christian 2, Providence Christian 0
Islands 2, New Hampstead 0
Islands 2, Woodville-Tompkins 1
Jackson County 2, Chestatee 0
LaGrange 2, Haralson County 1
Morgan County 2, Harlem 0
Mt. Bethel Christian Academy 2, King's Ridge 0
North Cobb Christian 3, Christian Heritage 0
Oak Mountain, AL. 2, Villa Rica 0
Parkview 2, Loganville Christian 0
Parkview 2, Winder-Barrow 1
Prince Avenue 2, Madison County 0
Prince Avenue 2, Stephens County 0
Rome 2, Douglas County 0
South Paulding 2, Douglas County 0
St. Francis 3, Mt. Pisgah Christian 0
Stratford Academy 2, Mt. de Sales 0
Woodland-Cartersville 2, Adairsville 0