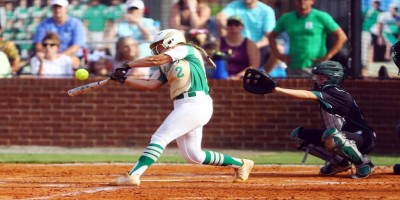 PHOTO: Lily McGregor photography
Region softball tournaments took place across the state on Tuesday as the regular season begins the transition into the playoffs. In an 8-AAAAA game, No. 5 Buford moved past Clarke Central 11-3 and senior Anabel Adam's walk-off solo home run in the bottom of the sixth inning ended it. Senior Amelia Veal earned the win to remain undefeated (6-0) on the season. Veal pitched all six innings while allowing four hits and three runs. She struck out five batters and had two walks. Senior Kennedi Bauman led Buford with three RBI's and was 2-for-3 at the plate. Adams was 1-for-3 with an RBI and two runs. Junior Abby Perkins was 2-for-4 with a triple, a double, two RBIs and two runs. Senior Ansleigh Hollifield was 2-for-3 with a double and an RBI. Buford moved to 14-9 and will face Walnut Grove on Thursday at 6 p.m.
In the state's highest classification, Lambert had four players with RBIs in its 9-1 victory over Forsyth Central in the Region 5-AAAAAAA tournament. Allie Sewell was 1-for-4 with two RBIs. Ansley Hyde was 2-for-4 with two RBIs. Brooke Miller was 2-for-3 with an RBI. Anna Jackson was 3-for-4 with an RBI. Courtney Sauer was 1-for-4 with an RBI. Sauer pitched four innings, faced 18 batters, allowing five hits and one run. Kristen Cowart pitched two innings and faced six batters to get the save.
No. 2 Calhoun advanced to the region championship game in Region 6-AAA with a decisive 2-1 victory over No. 6 Sonoraville at home. Junior Maggie McBrayer pitched a complete game, faced 26 batters, allowed three hits and one run earned. Junior Hannah Mashburn was 2-for-3 with two doubles. Senior Erin Barnes was 1-for-1 with a home run, and RBI and two runs scored. Junior Lyndi Rae Davis was 1-for-2.
In Class AA, No. 5 Vidalia defeated Bryan County 17-5 in five innings to finish 14-0 in Region 2-AA. Toniyah Cook was 3-for-3 and scored two times. Ashtyn Braddy was 3-for-4 and scored three times. Erica Poole was 3-for-4. Freshman Madison Starr pitched two no-hit innings with four strikeouts.
See the rest of the Monday and Tuesday scores below.
Tuesday Softball
Alexander 15, Tri-Cities 0
Appling County 4, Long County 3
Arabia Mountain 13, Lithonia 3
Bleckley County 4, Dodge County 3
Blessed Trinity 5, Flowery Branch 1
Buford 11, Clarke Central 3
Cairo 5, Baconton Charter 3
Callaway 14, Jordan 2
Carrollton 10, Paulding County 2
Cedartown 5, Chapel Hill 2
Central-Carroll 10, Sandy Creek 2
Central-Macon 12, Wilkinson County 0
Charlton County 18, Turner County 1
Chattooga 3, Model 0
Cherokee 3, Mt. Paran Christian 1
Clinch County 17, Irwin County 9
Coahulla Creek 6, Adairsville 1
Dade County 15, Gordon Central 0
Dawson County 9, Fannin County 5
Douglas County 20, Mays 2
East Coweta 10, Pike County 1
Forest Park 15, Morrow 0
George Walton Academy 8, Prince Avenue 0
Gordon Lee 7, Bowdon 0
Habersham Central 3, Lanier 2
Haralson County 11, Murray County 2
Harris County 2, Veterans 0
Heard County 5, Bremen 3
Hebron Christian 15, Providence Christian 4
Heritage-Catoosa 1, Gilmer 0
Jackson County 16, Hart County 1
Jenkins County 11, Montgomery Academy 3
LaFayette 3, Northwest Whitfield 0
LaGrange 3, Columbus 2
Lakeview-Fort Oglethorpe 3, North Murray 1
Lambert 9, Forsyth Central 1
Lee County 3, Houston County 2
Lowndes 15, Worth County 0
McIntosh County Academy 9, Treutlen 6
Mill Creek 6, Collins Hill 2
Morgan County 8, Alcovy 0
Mountain View 14, Duluth 0
Mt. de Sales 2, Rutland 0
Mundy's Mill 18, Tucker 6
New Hampstead 7, Jenkins 6
Newton 8, Shiloh 0
North Forsyth 6, South Forsyth 4
North Gwinnett 4, Peachtree Ridge 1
North Springs 15, Westlake 9
Northgate 5, South Paulding 2
Northview 16, West Hall 1
Pace Academy 4, Westminster 0
Pepperell 9, Coosa 0
Perry 10, Howard 0
Pierce County 7, Tattnall County 5
Rockmart 13, Armuchee 5
Savannah Christian 8, Emanuel County Institute 5
Seminole County 8, Miller County 0
Southeast Bulloch 10, Islands 2
Spalding 5, Mary Persons 4
Stratford Academy 9, Northside-Warner Robins 4
Taylor County 9, Hawkinsville 8
Telfair County 13, Atkinson County 0
Terrell County 16, Randolph-Clay 0
Thomas County Central 3, Bainbridge 1
Thomasville 3, Dougherty 1
Trion 13, Darlington 1
Villa Rica 9, Kell 4
Washington-Wilkes 14, Lincoln County 12
Wesleyan 1, Lovett 0
West Laurens 10, Upson-Lee 5
Wilcox County 16, Echols County 1
Woodland-Cartersville 6, Hiram 0
Tuesday Volleyball
Apalachee 2, Gainesville 0
Arabia Mountain 1, Columbia 0
Baker County 2, Mitchell County 1
Brookstone 2, St. Anne Pacelli 0
Calvary Day 2, Effingham County 0
Centennial 2, North Atlanta 0
Chattahoochee 2, Cambridge 0
Chattooga 3, Dade County 1
Clarkston 2, Southwest DeKalb 1
Columbus 2, Hardaway 0
Coosa 2, Armuchee 0
Douglas County 2, Alexander 1
Elite Scholars Academy 2, Drew Charter 0
Glynn Academy 2, Bluffton, SC 0
Godby 3, Colquitt County 0
Gordon Lee 3, Morris Innovative 0
Harris County 2, Callaway 0
Hart County 2, Monroe Area 0
Heritage-Newnan 3, Carrollton 0
Holy Innocents' 2, Paideia 0
Jackson County 2, East Jackson 0
Jefferson 2, East Jackson 0
Josey 2, Butler 1
Josey 2, Butler 1
Loganville 3, Clarke Central 1
Marist 2, Flowery Branch 0
May River, S.C. 2, New Hampstead 0
McNair 2, Douglass 0
McNair 2, South Atlanta 1
Mill Creek 2, Peachtree Ridge 0
Morrow 2, Mundy's Mill 1
Morrow 2, Stephenson 1
Mt. Bethel Christian Academy 3, Darlington 0
North Gwinnett 2, Duluth 0
North Gwinnett 2, Mill Creek 0
Northside-Columbus 2, Shaw 0
Oconee County 2, North Oconee 1
Oconee County 2, Stephens County 1
Peachtree Ridge 2, Duluth 0
Prince Avenue 2, Athens Academy 0
Providence Christian 2, George Walton Academy 0
Roswell 3, Johns Creek 0
Roswell 3, Johns Creek 0
South Atlanta 2, Douglass 0
South Forsyth 3, Milton 2
St. Vincents 2, Hilton Head Christian 0
Taylor County 2, Brooks County 1
The Habersham School 3, Islands 0
Thomasville 2, Baker County 0
Trinity Christian 2, Harris County 0
Upson-Lee 2, Kendrick 0
Walker 3, Greater Atlanta Christian 2
West Hall 2, Flowery Branch 0
Westminster Christian Academy 2, Providence Christian 0
Woodville-Tompkins 2, McIntosh County Academy 0
Woodville-Tompkins 2, Savannah Classical Academy 0
Monday Softball
Academy For Classical Education 5, Perry 0
Alpharetta 10, Chattahoochee 0
Archer 4, Peachtree Ridge 3
Bacon County 13, Toombs County 5
Baconton Charter 21, Calhoun County 0
Berrien 23, Irwin County 0
Blessed Trinity 10, Woodward Academy 2
Bryan County 11, St. Vincents 0
Bryan County 9, St. Vincents 1
Buford 4, Loganville 1
Cambridge 8, North Atlanta 0
Camden County 6, Glynn Academy 3
Cartersville 10, Darlington 2
Centennial 10, Johns Creek 9
Coahulla Creek 9, Southeast Whitfield 0
Collins Hill 7, Parkview 3
Colquitt County 12, Worth County 0
Creekview 10, Sequoyah 4
Crisp County 11, Tift County 2
Denmark 5, Dawson County 2
Dunwoody 13, Northview 1
East Coweta 6, Newnan 2
East Paulding 10, Hiram 1
Effingham County 8, Richmond Hill 0
Forsyth Central 6, West Forsyth 5
Galloway School 18, Whitefield Academy 17
Georgia Military 8, East Laurens 0
Glascock County 25, Wilkinson County 8
Greenbrier 15, Cross Creek 0
Harrison 9, Sprayberry 1
Islands 5, Calvary Day 3
Lambert 6, Milton 5
Lanier County 13, Atkinson County 0
Lincoln County 17, Westside-Augusta 0
Madison County 8, Hart County 0
Marist 10, Wesleyan 5
Mt. de Sales 8, Trinity Christian 0
Mt. Paran Christian 11, Holy Innocents' 5
Mt. Pisgah Christian 0, Fellowship Christian 0
North Forsyth 4, South Forsyth 2
North Springs 5, Douglas County 1
Northside-Warner Robins 12, Warner Robins 6
Oconee County 4, Franklin County 3
Prince Avenue 17, Monroe Area 1
Rabun County 7, Towns County 3
Roswell 2, Norcross 1
Sandy Creek 17, Our Lady of Mercy 0
Seminole County 12, Early County 0
St. Pius X 5, Arabia Mountain 4
Telfair County 8, Coffee 5
Therrell 21, Drew 3
Upson-Lee 16, Kendrick 1
Westside-Macon 19, Northeast-Macon 4
Wilcox County 6, Wheeler County 3
Woodland-Cartersville 14, Rome 2
Monday Volleyball
Callaway 2, Jordan 0
Callaway 2, Manchester 0
Glynn Academy 2, Statesboro 1
Lake Oconee Academy 2, Oglethorpe County 1
Mt. Bethel Christian Academy 3, Whitefield Academy 0
Mt. Pisgah Christian 2, King's Ridge 0
Richmond Academy 3, Aquinas 0
Richmond Hill 2, Glynn Academy 1
Wesleyan 2, Mt. Pisgah Christian 0