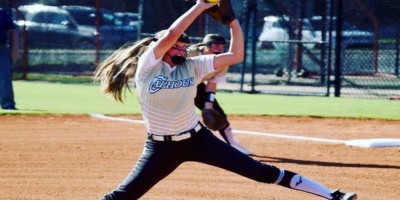 The high school softball and volleyball seasons continued Tuesday as the collective sports world holds its breath and hopes for a full season ahead.
The Calhoun Yellow Jackets, which reclassified from Class AAA to Class AAAAA this season, opened its season with a 4-0 victory over rival Sonoraville. Senior Maggie McBrayer struck out seven in the victory. Senior Lyndi Rae Davis was 2-for-2 with a double, a home run and two RBIs. Junior Grace Crocker was 1-for-1 with an RBI and a stolen base. Junior Kayleigh Warren was 1-for-3 with an RBI. Juniors Espee Reyes and Macy Brown each were 1-for-3 with a stolen base.
See the rest of the scores below.
Softball scores from Tuesday
Calhoun 4, Sonoraville
Cedartown 7, Cartersville 5
Christian Heritage 13, Pepperell 12
Coahulla Creek 11, Murray County 0
Dalton 11, Rome 3
Dodge County 14, Perry 6
East Paulding 15, Douglas County 0
Harrison 6, Hillgrove 5
Howard 10, First Presbyterian 2
Irwin County 18, Turner County 7
Jackson County 5, East Jackson 4
Lumpkin County 9, Forsyth Central 3
Marion County 16, Jordan 0
Morgan County 3, Jasper County/Monticello 1
Newton 8, Upson-Lee 1
Villa Rica 15, Grady 1
Volleyball scores from Tuesday
Athens Academy 2, Parkview 0
Augusta Prep Day 3, Harlem 0
Chapel Hill 2, Adairsville 0
Eastside 3, Eagle's Landing 2
Gainesville 2, Cherokee Bluff 1
Harris County 2, Mary Persons 0
Harris County 2, Warner Robins 0
Jefferson 2, Gainesville 1
Oconee County 2, Winder-Barrow 0
Stratford Academy 3, Academy For Classical Education 0
Tattnall Square 3, Peach County 1
Walker 2, Our Lady of Mercy 0
Winder-Barrow 2, Oconee County 0