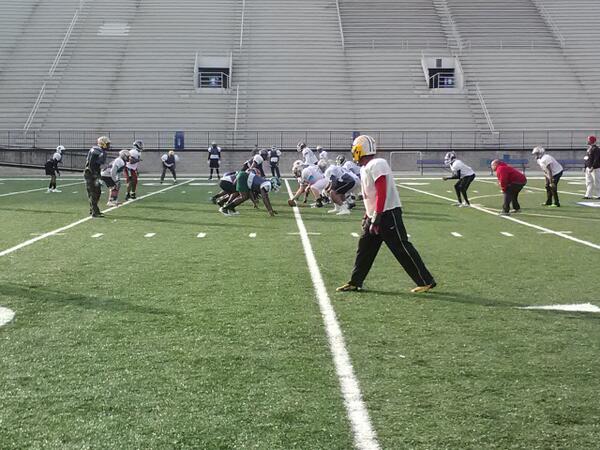 In the final practice of the weekend, the South team worked on the details of its gameplan going into the Elite Junior Classic tomorrow. The squad worked offense vs. defense in a scrimmage-like format for much of the afternoon session, but also let star kicker Ian Shannon of Marietta show his wares on kickoffs and field goals.
Coach Ed Pilcher liked what he saw, although much of the practice was working on the basics.
"We're just trying to fine-tune what we can offensively and, defensively, get lined up and just go play," Pilcher said. "We're trying to throw as much at (the players) as we can and just work on being more consistent. We're doing a good job of that and I've been real pleased with everybody."
"Of course, we touched on special teams today and there's not much special teams play in this kind of game other than kickoff returns and kickoff coverage. We do have a good weapon in our kicker, Ian Shannon of Marietta. He does a good job, he's got a great leg. We feel like we'll be real solid there."
All-star games like the Elite Junior Classic provide coaches with the unique challenge of how to best display the talents of their players on such a short schedule. Ware County coach Ed Dudley thinks it is a delicate balance of a couple factors.
"I think the big thing for them is getting an opportunity to get out and show what you can do and get a chance to work against some other great players," said Dudley. "So, to me, the simpler we can keep it, the more basic we keep it on both sides of the ball, the better off they're all going to be, because really what they're all trying to do is display their skills and their fundamental talent. I think that's kind of the beauty of it."
There are a few ways to go about it, but Pilcher and Dudley agree that adjusting to the opposing defense is the best way to gameplan for an all-star game. While there will be a plan going in, the playcalling and tendencies will vary based on what the North does.
"We'll start out with different formations to see how they adjust and how they line up and we'll go from there," said Pilcher. "We'll mix it up and match it up the best we can and try to take advantage of what they give us. In this kind of game it's going to be big plays. Defense generally has a big edge in this type of game."
While being vanilla on offense would appear to be the way to approach a game in which a team has little preparation, Dudley mentioned that some razzle-dazzle mixed in is probably in store for a crowd that is expected to number around several thousand fans.
"I think both of those components are important in an offensive game plan (vanilla and razzle-dazzle)," he said. "I'm not giving away Coach (Rance) Gillespie's game plan, but we've got some gadgets in and we've got some basic plays."
With the amount of talent and play-makers on the field, the offensive skill players will likely decide the winner, according to Pilcher. In his fifth all-star game as a head coach, he knows what to expect.
"Skill players win these games," said the veteran coach, who has won 244 games in 28 years as a head coach in Georgia. "I'm sure (the North is) very talented too, but we've got a very talented bunch and I'm very pleased with them. We've got some good skill folks and defensively, we are really quick. We need to be really quick because they're really big."
For the second day in a row, recruiting experts and high school coaches from all over the southeast attended the event, which features a who's-who of college talent in the 2015 class. While college coaches and recruiters are not allowed to talk to recruits at this time, they will undoubtedly be watching tomorrow as the game is televised on CSS.
Nuggets from the South Practices:
-Chuma Edoga may be the best offensive lineman in the state. He has shown his skill and athleticism against some of the top defensive linemen in Georgia the past two days, and more than held his own. Rivals.com's Jake Rowe and 24/7 Sports.com's Rusty Mansell were each more than impressed by the McEachern star.
-The South WRs can fly. While Benedictine's Brad Stewart has surprised many with his performance in practice, Griffin's Keyston Fuller and McEachern's T.J. Rahming also impressed onlookers with blazing speed.
-Fuller and Stewart each fell victim to minor injuries today. Fuller is expected to play with a sprained AC joint in his shoulder while Stewart is questionable with a possible turf toe.
-Griffin LB Jordan Colbert has played everything from tight end to safety in his career, but has stood out this week at linebacker. If he wasn't already, Colbert will be a top target of multiple bigtime programs after this weekend.
-Defensive back Rashad Roundtree of Lakeside-Evans displayed the type of size and athleticism it takes to play bigtime college ball. The South coaches mentioned Roundtree as one of the surprises of the weekend.
-Brandon Sandifer is an enormous OG from Northside-WR. He was easy to spot on the line of scrimmage despite being surrounded by many other large young men. He already has the makings of an NFL-type frame.
-Defensive ends Julian Fraser of Valdosta and Steven Wright of Ware County looked like pass rushers who can make it on the next level. Their frame, quickness and lower-body strength is prototypical for major college ball.