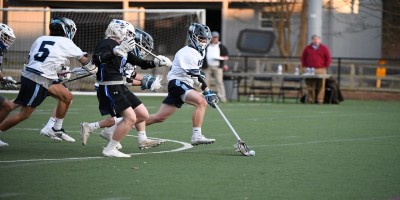 Photo Provided By: Sam Bayne
Several lacrosse games between ranked teams occurred this Saturday, including the second straight loss for the class A-5A top-ranked Lovett Lions as they fell 12-7 to class 6A-7A sixth-ranked Roswell who was led by junior Alex Gekas with four goals.
The class 6A-7A top-ranked Lambert Longhorns grabbed their tenth win of the season and remain undefeated following a sound 15-6 victory over class A-5A third-ranked Blessed Trinity. The Lassiter Trojans put up a strong performance against Woodward Academy, going up 8-1 at the end of the first quarter. The War Eagles' offense was stifled in the first three quarters by the defensive play of senior goalie George Scharff who racked up 7 saves in the first half to keep Woodward Academy at just 2 goals heading into the third. Woodward Academy managed to score four goals in the fourth, but their offensive spark would not be enough to propel them ahead of the Trojans, who ended the game with 16 goals. The Walton Raiders were served their first loss of the season following a one-point loss to class A-5A second-ranked Westminster. The Wildcats and Raiders were tied at 2-2 at the half, but two fourth-quarter goals from sophomore Steven Crawford and senior Jake Jameson helped seal the deal on a remarkable 7-6 win for Westminster.
Saturday Spring Scores
Baseball
Armuchee 11, New Manchester 10
Armuchee 11, New Manchester 5
Calvary Day 7, Islands 1
Centennial 4, Roswell 2
First Presbyterian 14, Emanuel County Institute 2
Galloway School 5, Jackson 3
Gordon Lee 12, Christian Heritage 1
Gordon Lee 15, Christian Heritage 1
Holy Innocents' 11, Prince Avenue 0
Hoover, AL 4, Buford 3
Jackson 15, Galloway School 7
Jonesboro 2, Fayette County 1
Lee County 12, Hardaway 2
Lee County 6, Hardaway 5
Mt. Vernon Presbyterian 10, Lakeview Academy 0
Mt. Vernon Presbyterian 5, Lakeview Academy 3
North Gwinnett 7, Miller, VA. 3
Pataula Charter 16, Westwood (GISA) 4
Pepperell 2, Trion 1
Providence Christian 12, Towns County 0
Rockmart 7, Cass 0
Seminole County 12, Chattahoochee County 1
Seminole County 15, Chattahoochee County 3
Stephenson 13, Lakeside-DeKalb 3
Wheeler County 7, Putnam County 5
Wheeler County 9, Montgomery County 6
Boys Soccer
Aquinas 1, Harlem 0
Auburn, AL 1, St. Anne Pacelli 0
Greenbrier 4, Lowndes 0
Grovetown 2, Providence, SC. 0
Mann 4, Parkview 1
Stratford Academy 2, Gray Collegiate Academy 2
Westminster 2, Clarkston 1
Girls Soccer
Grovetown 3, Gray Collegiate Academy 0
Mann 2, Parkview 0
North Augusta, SC 1, Lowndes 0
Stratford Academy 3, Aquinas 0
Westminster 4, Greenbrier 1
Boys Lacrosse
Buford 8, McIntosh 5
Centennial 22, Peachtree Ridge 6
Collins Hill 6, Greenbrier 5
Duluth 14, Norcross 6
Johns Creek 18, Pope 13
Lambert 15, Blessed Trinity 6
Lassiter 16, Woodward Academy 7
Milton 21, Lakeside-DeKalb 1
Pinecrest Academy 15, LaFayette 9
Roswell 12, Lovett 7
South Forsyth 15, Harrison 9
Trinity Christian 13, North Atlanta 7
Westminster 7, Walton 6
Girls Lacrosse
Christ Church, SC. 14, Grayson 9
Johns Creek 25, Duluth 1
New Albany, OH 16, Walton 3
Richmond Hill 16, Bolles, FL. 12
Westminster 14, Grady 2