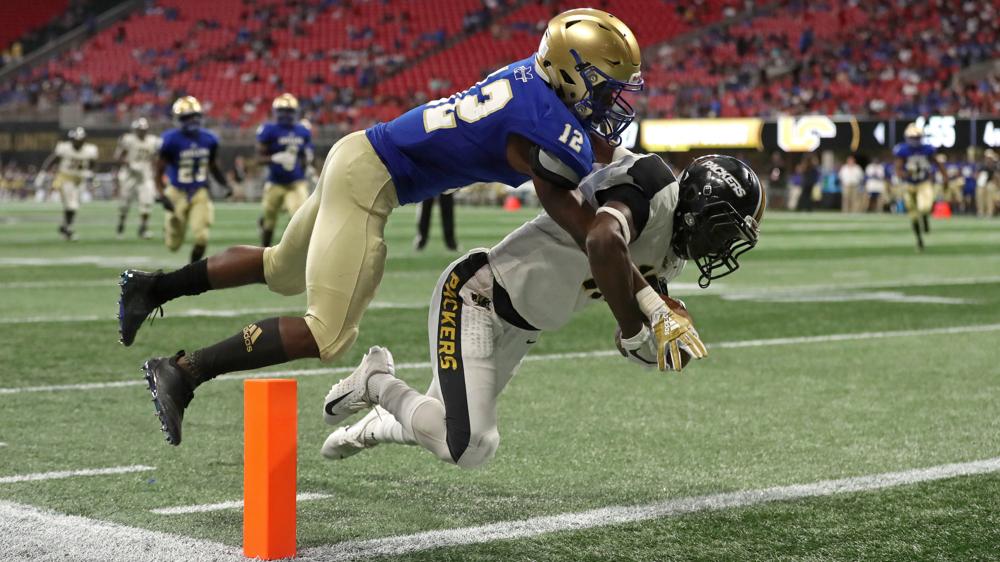 This (way too early) edition of the Class AAAAAAA 2019 football rankings has been assembled based off a variety of factors and estimations. I will attempt to validate the reasoning behind the order that has been selected by presenting some of the stats or factors that went into my consideration. The Class AAAAAA poll will be released on Monday and the remaining classes will be released in descending order each day that follows. 
Colquitt County comes in at No. 1, despite the impending changes that will come with a new head coach following Rush Propst's departure this month. The Packers outscored their Region 1-AAAAAAA opponents 123-22 last season, and the roster saw an incredible amount of players contribute throughout the 2018 season that is going to provide them with a ton of returning experience. Among the returning starters will be quarterback Jaycee Harden and super star running back Daijun Edwards.
Parkview gets the nod for No. 2 and it is their physicality on the defensive side of the football, as well as their consistency on offense, that makes them a serious state championship contender this season. In 2018, Panthers defeated Lowndes, Tift County and Milton—among other schools—and were 11-0 before their 36-29 loss to Archer in the second round. The program's success against its Gwinnett competitors, as well the South Georgia powerhouses, is a testament to their consistency on both sides of the football. Jordan Williams will be back as a senior quarterback this season and Cody Brown will be back for his junior season after rushing for 1,588 yards off 183 carries (8.7 ypc) and 25 touchdowns in 2018 as a sophomore.
McEachern will also be experiencing a coaching change, and it comes in at No. 3. Former Ware County head coach Franklin Stephens is taking over the program and he will have a roster with state championship potential to work with. Stephens' defensive experience will help an athletic and physical front seven, and McEachern's passing game should give the Indians one of the more balanced attacks in the state.
No. 4 North Gwinnett dropped a tossup game to Walton last season, and then was rolled over by Colquitt County 45-0 in the quarterfinals. The wide margin of the defeat was disappointing, and it casted a shadow on an otherwise successful season. The 2017 state champs will be back this season with playmakers like Josh Downs, as well as dual-threat quarterback JR Martin.
No. 5 Hillgrove's only loss last season came in a 20-19 defeat to eventual state champion Milton in the quarterfinals. The Hawks finished 12-1, marking the first season in school history that the Hawks notched a dozen wins. The program has reached the playoffs in nine straight seasons entering 2019. This span includes four quarterfinals appearances, which is as far as the program has ever been able to reach.
No. 6 Camden County snapped a two-year playoff drought last season with a young and exciting roster. Logan Watson passed for 1,831 yards and 17 touchdowns as a junior, and Jamie Felix had a breakout freshman season at running back. Felix is a home-run threat out of the backfield that took 17 carries for a career-high 125 yards and a touchdown in the Wildcats' first-round loss to Walton. He finished his freshman campaign with 738 yards off 121 carries (6.1 ypc) in the toughest region in the state.
No. 7 Archer is another championship-caliber team that crowds the poll. Senior Carter Peevy will be back under center to quarterback the Tigers for the third straight season. The biggest concern for the Tigers will be replacing the defensive production of Solomon Zubairu and Colby Wooden—as well as their ability to disrupt opponents, which was a major key to last year's success.
No. 8 Marietta has arguably the most talented returning roster in the state this season. Tennessee-commit and quarterback Harrison Bailey has an arsenal of receivers to work with that many colleges would be lucky to have. Bailey, however, has been sidelined by injuries in each of the last two seasons, and defense is still a question mark for the Blue Devils. In last year's playoff loss to East Coweta, Gerald Green paved his way to 270 rushing yards and four touchdowns.
No. 9 Grayson has experienced a higher rate of coaching turnover than most teams on this list in the past several seasons, but the Rams' 57 wins over the last five seasons should speak for itself. Additionally, Grayson has hired a superb head coach in Adam Carter to lead the program this upcoming season. Carter was a first-year head coach at Creekview last year, and led the Grizzlies to the first undefeated regular season in school history and a quarterfinal berth.
No. 10 Lowndes was able to rush for 256.6 yards per game this past season, but the Vikings will be looking to replace a key part of that attack in 2019. Kentucky-signee Travis Tisdale accounted for 1,903 yards off 217 carries (8.8 ypc, 136 ypg) and 21 touchdowns last  season.
Class AAAAAAA
1. Colquitt County
2. Parkview
3. McEachern
4. North Gwinnett
5. Hillgrove
6. Camden County
7. Archer
8. Marietta
9. Grayson
10. Lowndes