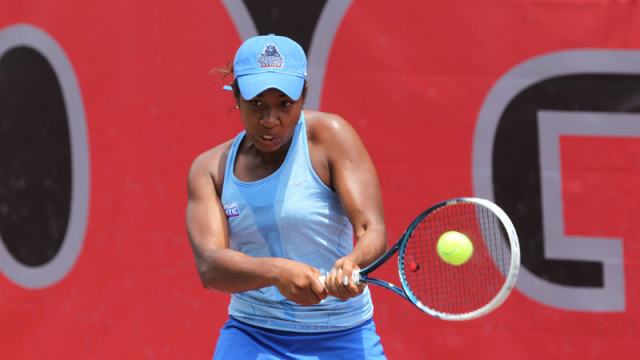 Photo by Georgia State Athletics
Georgia State senior Abigail Tere-Apisah became the first player in school history to reach the semifinals of the NCAA tennis tournament when she made a memorable run through the singles draw last week in Athens. Playing at the University of Georgia's Dan Ma- gill Tennis Complex, the unseeded Tere-Apisah scored victories over opponents from Tennessee, California and Stanford before upsetting No. 5 seed Beatrice Capra of Duke 4-6, 6-3, 6-1 in last Saturday's quarterfinals. The Papua New Guinea native eventually fell to Cal's Lynn Chi by the slimmest of margins in a 6-3, 4-6, 7-6(2) defeat on Sunday.
Tere-Apisah ended her career with school-record 87 wins. She was an All-Ameri- can in 2012 and 2014 and earned Sun Belt Con- ference Player of the Year honors in each of the past two seasons. Georgia State finished the season ranked No. 55 in the nation—its second best in history—after taking out 31st-ranked Tennessee in the first round of the NCAA team tournament on May 9.
"I don't know if you can put it into words what she has meant to Georgia State," interim head coach Robin Stephenson told georgiastatesports.com. "She has been the catalyst of the program, the heart and soul of the pro- gram, backbone of the program. She put us on the map."
"I feel like I've improved so much since I've been at Georgia State," Tere-Apsiah said. "Being a senior in my last tournament, I just wanted to come out and play. If it meant stay out five hours on the court, I was willing to do that. But four years here at Georgia State, it's been amazing. I'm truly going to miss it."
GOLF SEASON CONCLUDES …
The men's golf team made its fifth appearance in the NCAA championship and finished 22nd on Monday in Hutchinson, Kan. Georgia State placed ahead of eight schools, including 10th-ranked Virginia Tech and 18th-ranked Florida State. Senior Tyler Gruca shot a final-round 76 to come in at 8-over par, good for an 89th-place showing in the individual competition. Gruca never missed a tournament in his four-year ca- reer (45 played) while playing 131 rounds, third most in program history. Junior Davin White, who was tied for the overall lead deep into the second round, also shot a final-round 76 and tied for 42nd. Sophomore J.J. Grey fired a con- cluding 73 and tied for 113th.