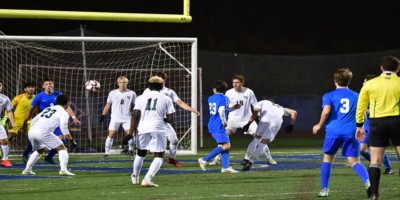 The Lassiter girls, ranked fourth in the latest Score Atlanta soccer poll, defeated Walton 5-1 on Thursday to move to 10-1 on the year and 4-0 in Region 4-AAAAAAA.
Mackenzie Ellis led with two goals for the Trojans. Maddy Higgins, Hal Hershfelt and Sophia Libman each scored one goal. With 20 seconds left before the half, Lassiter held a 2-0 lead when Walton converted a corner kick for a goal to cut into the lead 2-1 but from there it was all Lassiter's game and the Trojans controlled the pace offensively and defensively to seal the victory.
The victory marked the ninth win in a row for Lassiter since losing 2-1 to Harrison on Feb. 5. Lassiter will face Kell on Friday.
Boys Soccer
Academy For Classical Education 12, Portal 3
Adairsville 2, Ringgold 0
Aquinas 1, Gray Collegiate 0
Coahulla Creek 7, North Murray 0
Eastside 10, Henry County 0
Hart County 7, Monroe Area 0
Irwin County 8, Lanier County 0
Lithia Springs 2, Pebblebrook 1
Luella 8, Griffin 0
Pike County 3, Academy For Classical Education 0
South Paulding 2, Tri-Cities 0
Towns County 2, Commerce 1
Union Grove 5, Jones County 0
Upson-Lee 1, Mary Persons 0
Walker 2, Darlington 0
Westminster-Augusta 1, Lakeside-Evans 0
Woodville-Tompkins 2, Jeff Davis 1
Girls Soccer
Adairsville 5, Ringgold 0
Clarkston 3, Cross Keys 2
Coosa 4, Chattooga 0
Eagles Landing Christian 10, Strong Rock Christian 0
Eastside 10, Henry County 0
Fayette County 8, Riverdale 0
First Presbyterian 9, Harlem 0
Hoover, AL 2, Richmond Hill 0
LaGrange 3, Chapel Hill 2
Lassiter 5, Walton 1
Luella 4, Griffin 1
Mary Persons 3, Howard 1
Model 5, Gordon Central 0
Morgan County 4, Monroe Area 0
Parkview 8, Eastside 0
Pebblebrook 1, Lithia Springs 0
Pike County 3, Academy For Classical Education 0
Prince Avenue 7, George Walton Academy 0
Sonoraville 1, Calhoun 0
South Paulding 6, Tri-Cities 1
Stratford Academy 5, Hammond 2
Temple 3, Callaway 2
Toombs County 3, Swainsboro 0
Towers 2, Miller Grove 1
Towns County 4, Commerce 1
Baseball
Alexander 5, Whitewater 4
Allatoona 12, Sprayberry 1
Aquinas 10, Lincoln County 0
Bacon County 7, Swainsboro 3
Bleckley County 4, Academy For Classical Education 3
Brookstone 3, Athens Christian 2
Calvary Day 12, Claxton 1
Carrollton 15, Woodland-Cartersville 0
Columbus 2, Northside-Columbus 1
Dade County 4, Armuchee 3
Dodge County 7, Fitzgerald 0
George Walton Academy 7, Commerce 3
Georgia Military 10, Lake Oconee Academy 0
Hapeville Charter 4, B.E.S.T. Academy 1
Hawkinsville 10, Irwin County 7
Jeff Davis 7, Vidalia 2
Lakeview-Fort Oglethorpe 9, Murray County 7
Metter 3, Toombs County 1
Mountain View 7, East Jackson 1
Newnan 20, Pebblebrook 2
Parkview 18, Berkmar 0
Paulding County 9, Villa Rica 6
Pickens 8, Gilmer 7
Prince Avenue 19, Towns County 3
Ringgold 9, Coahulla Creek 2
South Atlanta 21, Douglass 6
Southeast Whitfield 4, Heritage-Catoosa 1
Starr's Mill 8, McIntosh 7
Trinity Christian 19, Eagles Landing Christian 3
Tucker 6, Mt. Zion-Jonesboro 2
Walker 15, Mt. Bethel Christian Academy 0
Westside-Augusta 12, Thomson 2
Westside-Macon 16, Baldwin 13
Boys Lacrosse
Buford 10, Pinecrest Academy 6
Centennial 22, Duluth 0
East Paulding 16, Walker 8
Etowah 16, River Ridge 2
First Presbyterian 9, Eagles Landing Christian 7
Forsyth Central 9, Gainesville 1
Hillgrove 19, McEachern 5
Holy Innocents' 18, North Springs 7
Lexington, S.C. 10, Evans 1
Mill Creek 12, Peachtree Ridge 7
Roswell 14, Dunwoody 7
Starr's Mill 15, St. Pius X 5
Union Grove 19, Druid Hills 5
Walton 11, Northview 3
West Forsyth 10, North Atlanta 1
Girls Lacrosse
Buford 14, Forsyth Central 13
Cambridge 11, Starr's Mill 9
Fayette County 20, Ola 3
Grady 19, Norcross 4
Holy Innocents' 16, King's Ridge 6
Mountain View 14, Brookwood 6
Mt. de Sales 10, Stratford Academy 5
Parkview 15, Pensacola Catholic 9
Sequoyah 16, North Forsyth 11