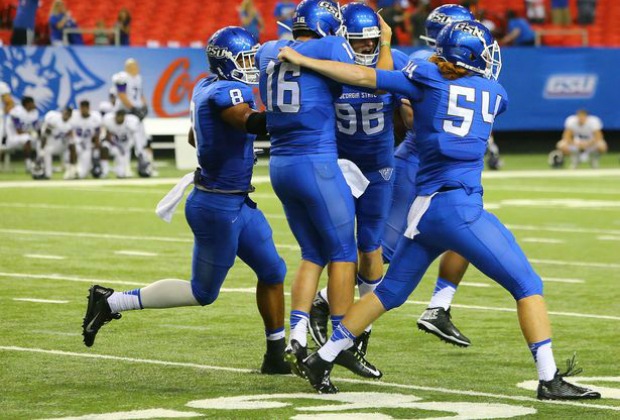 Curtis Compton/AJC
After having the week off, Georgia State look to get its first road win and first Sun Belt win of the season as they took on Louisiana Lafayette on Saturday night. It looked as if the Panthers were going to do that as they led 31-28 with 6:35 left in the fourth quarter. But UL-Lafayette scored the go-ahead touchdown in the fourth quarter to beat the Panthers 34-31.
"We're right there, and we keep getting bit by lack of execution at crucial times. We haven't figured out how to win, and that's my job to get these kids to do that," head coach Trent Miles said to the media after the game. "Hats off to Louisiana Lafayette. When they had to stop us at the end, they did. Our kids are playing hard, they're fighting their tails off, and it's my job to make sure they learn how to win."
Marcus Caffey, who made the transition from cornerback to running back during the bye week, was the Panthers go-to guy. He rushed for 90 yards on 27 carries and scored three times.  Duvall Smith scored the other touchdown for the Panthers and quarterback Nick Arbuckle was 19-of-27 for 276 yards.
But the defense is what killed the Panthers. The Cajuns ran for 195 yards and threw for 266 yards.  The Panthers defense had to play a 3-4 look rather than a 4-3 because of the injury to outside linebacker Mackendy Cheridor. That did not help because the Panthers failed to sack Cajuns quarterback Terrence Broadway who threw for two touchdowns in the win.
Penalties were another reason the Panthers came up short. They were penalized 10 times for 79 yards and two of those penalties came in the final drive as they were gaining momentum.
Another note on the game was that Ronnie Bell got the start at quarterback for the Panthers because Arbuckle violated the team's academic attendance policy. Bell was 1-for-4 with 11 yards.
The Panthers drop to 1-4 and 0-2 in Sun Belt play. They will look to snap their four-game losing skid next weekend as they come back to Georgia Dome to face Arkansas State.