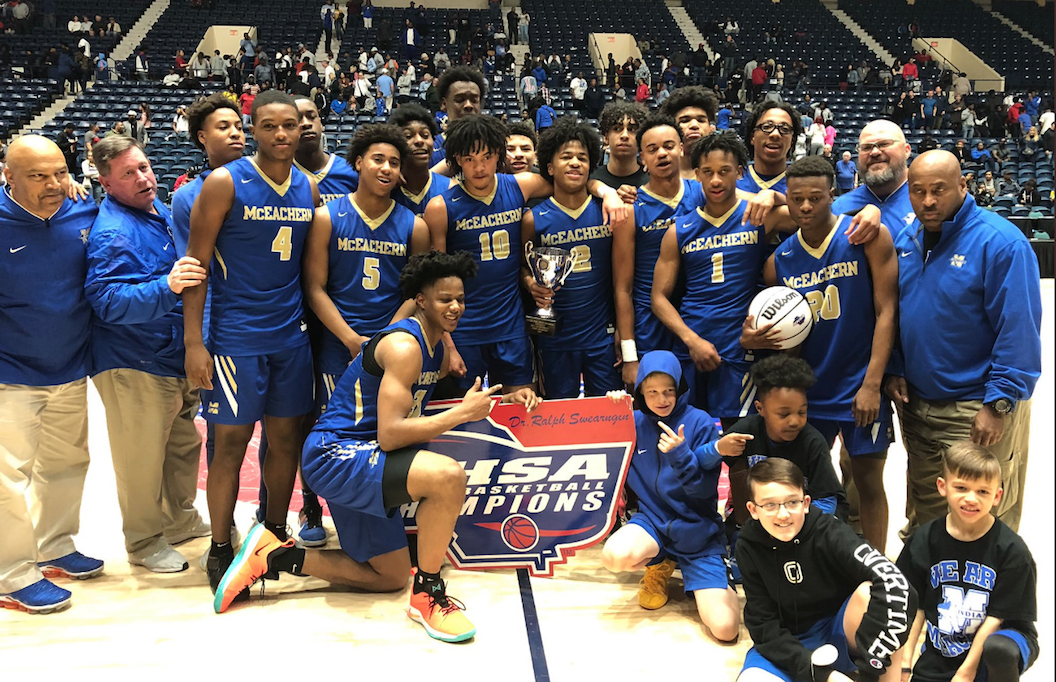 Technically, McEachern's basketball season came to an end on March 9 when the Indians defeated defending Class AAAAAAA state champion Meadowcreek 62-54 to close out a perfect 32-0 season. Hoisting the program's first-ever state championship trophy in Macon was the grand finale to McEachern's historic season, which also included tournament victories at the City of Palms Classic in Fort Myers, Fla., and the Bass Pro Tournament of Champions in Springfield, Mo.—not to mention a 9-0 record against opponents that cracked MaxPreps' Xcellent 25 rankings.
The state of Georgia has not seen a boys team officially designated as a national champion since Southwest Macon in 1979, and coincidentally, the Patriots were honored on the 40th anniversary of their triumph during halftime of McEachern's win over Meadowcreek.
What it takes to be considered a national champion in high school athletics has no doubt changed in the years since Don Richardson's star-powered team accomplished the feat four decades ago. Today, we find a lack of consensus between contradicting polls and invitations to compete in post-postseason tournaments that have taken the annual debate even further past the conclusion of the official season.
Moments after McEachern's victory, head coach Michael Thompson confirmed to SUVtv that the Indians would be playing in the GEICO Nationals this April in New York. The national tournament, which started in 2009, pins eight contenders that compete in a single-elimination bracket. Were McEachern to win it, there is no doubt that they would be a consensus national champion. Reality, however, is hardly that plain sailing.
Two days after Thompson announced that his team was New York-bound, all five starters exclusively told USA Today Sports that they were choosing to not make the trip. The reasons differed from player to player and Thompson, who was unaware of his player's conflicting intentions when he initially confirmed, has declined to comment in the days since. It was unknown whether or not a short-handed McEachern team would still go anyways.
"They've been trying to figure this thing out for a day or two and I'm not exactly sure at this moment where they are at," said McEachern Director of Athletics Jimmy Dorsey Thursday morning. "Here's the problem. Something like the GEICO Tournament, you don't find out until the very last second of your season whether or not you are going to be invited. So in the meantime, these kids are involved in so many different things outside of school, that they make commitments to go and do things after the season. So you get caught in that catch 22 where you want to go play in something like that, but you have already committed to doing something else, and that is what has created this current situation."
Leading scorer and junior point guard Sharife Cooper is set to attend the USA Basketball Junior National Team Minicamp in Minneapolis during the same time as the GEICO Nationals. McEachern's other four starters (Isaac Okoro, Quentin McElroy, Jared Jones and Alyn Breed) are all seniors and indicated in their statements to USA Today that their decisions to opt out were based on their recruitment and focusing on their basketball futures.
Okoro is committed to Auburn and Jones is committed to Northwestern. Guards McElroy and Breed are yet to commit and expressed how playing the season with a tunnel vision mindset and all-out determination to win state, made it important for them to get back in touch with college coaches and focus on their basketball futures.
"It's just a tough situation," said Dorsey. "For somebody my age, to think that you wouldn't jump at a chance to go play in something like this would be hard to imagine. But when I was a kid, you had no opportunities to go do anything after the season was over anyways. It's just a different world we are living in now, and it is going to create conflicts. Sometimes it just comes down to hard choices for these kids. We can't make them go."
McEachern was still slated to appear in the tournament without its five starters until Thursday afternoon when the decision to call off the trip altogether was made.
McEachern is currently nationally ranked No. 1 by MaxPreps, BlueStar and the Prep Circuit Power 50 and No. 2 by USA Today and in the Ballislife.com Fab 50.