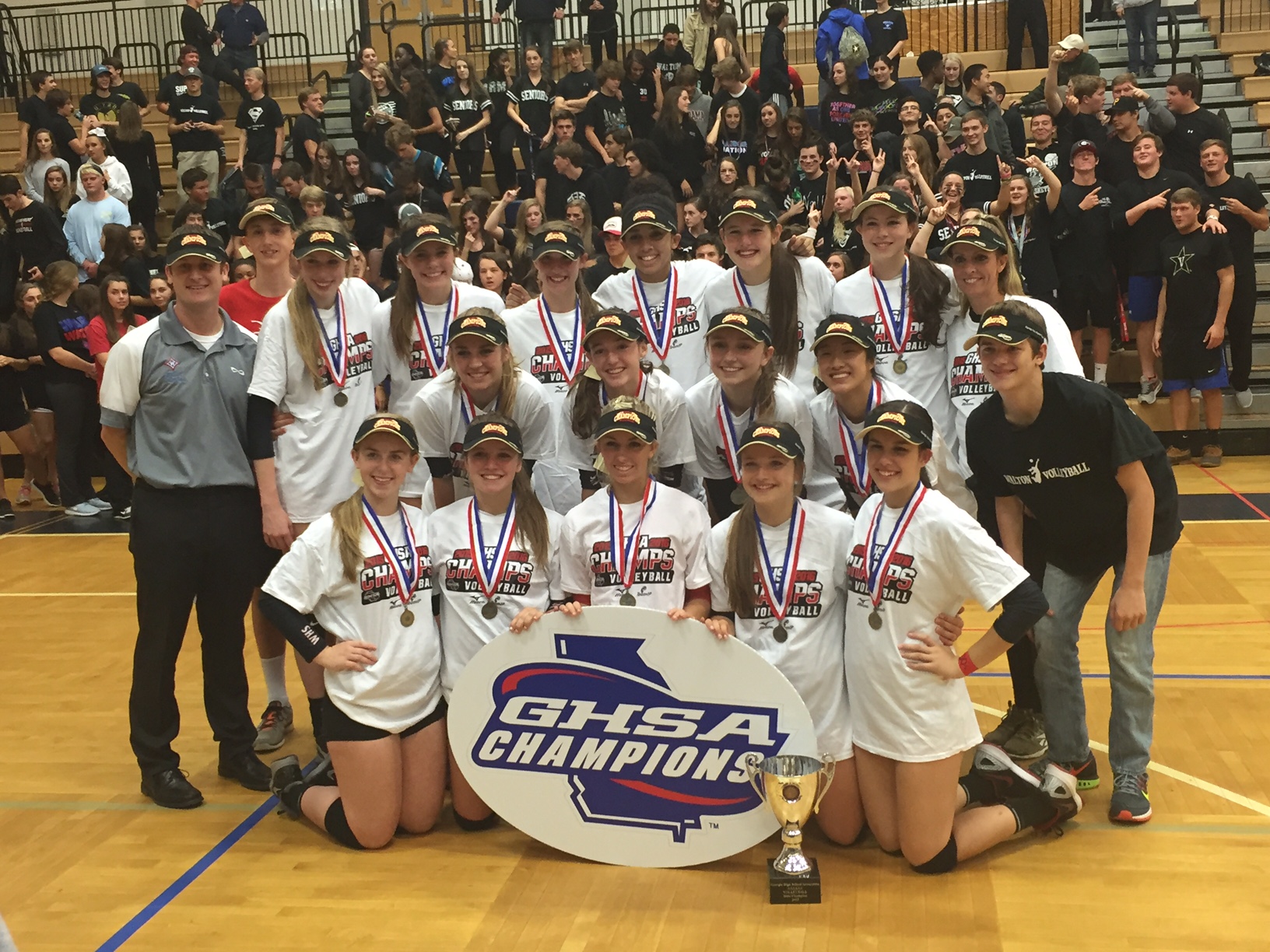 Walton swept its way past South Forsyth 3-0 [25-13, 25-12, 25-21] in the Class AAAAAA state championship to capture the program's 10th state title. After doubling South Forsyth's points output the first two sets (50-25), Walton trailed 17-10 in the third set before head coach Suzanne Fitzgerald regrouped her team with a timeout. The Raiders responded with eight of the next nine points to tie it 18-18 before finishing off the War Eagles 25-21. Senior Celeste Fitzgerald led with 11 digs and an ace on match point. Dalaney Hans finished with 38 assists and Tai Bierria had a team-high 15 kills. Freshmen Gabby Gonzalez and Riley Spurlin added 13 kills and eight kills, respectively.
Class AAAAA
Columbus rebounded after dropping the opening set and defeated defending champion Sequoyah 3-1 [18-25, 25-19, 25-23, 25-19] for the program's third state title (2007, 2013). Shardonee Hayes led with 18 kills, three blocks and three digs and teammate Tatyana Wyatt notched 11 kills. Madison Fleming set up the Blue Devils powerful net play with 45 assists and created offense with her 19 digs. Columbus trailed Sequoyah 19-16 in the third set before Summer Hargraves served three consecutive aces and sparked the Blue Devils' strong finish.
Class AAAA
Buford (41-0) completed its perfect season with a five set victory over St. Pius (26-24, 25-12, 24-26, 23-25, 15-10) for the program's first volleyball state title. St. Pius had set point with a 24-21 lead in the opening frame but Buford used five straight points to take the 1-0 edge. Sophomore Tatum Shipes led Buford with 22 kills and 15 digs. Gabby Curry tallied 13 kills with 20 digs, four aces and two blocks. Morgan Mitchell also fueled Buford with 49 assists.
Class AAA
It took five sets, but Blessed Trinity was able to repeat as Class AAA state champions beating Westminster 21-25, 25-23, 25-18, 24-26, 15-12. The Titans trailed 23-22 in the second set but used three straight points to avoid a 2-0 hole.  the Wildcats held a 23-22 advantage but the Titans scored the final three points of the game. In the fourth set, Westminster down 2-1, held an 11-3 lead but the Titans came storming back to hold a 23-22 edge. A lift call ended the game in favor of Westminster forcing the final set. In the loss, Maya Longacre recorded 28 assists.
Class AA
Hard-hitting senior Haley Collins, freshman Ashley Mathison and senior assist machine Sarah Porter lifted Holy Innocents' past Lovett in four sets [25-19, 23-25, 25-22, 25-17]. Three-time reigning champion Holy Innocents' took set one 25-19, lost set two 25-23, then won 25-22 and 25-17 in the championship deciding fourth set. Collins finished match with 16 kills and two aces. Porter notched 19 assists and 11 kills while Mathison added 11 kills. Kirby Ellis paced Lovett with 23 assists.
Class A
Calvary Day shook off a 25-19 set one loss to race past Landmark Christian for the Cavaliers' first title in school history, 3-1 [19-25, 25-23, 25-19, 25-14]. Claudia Chisholm led the Cavs in kills with 19 in the match. Cameron Dobbs scored 19 kills for Landmark Christian.