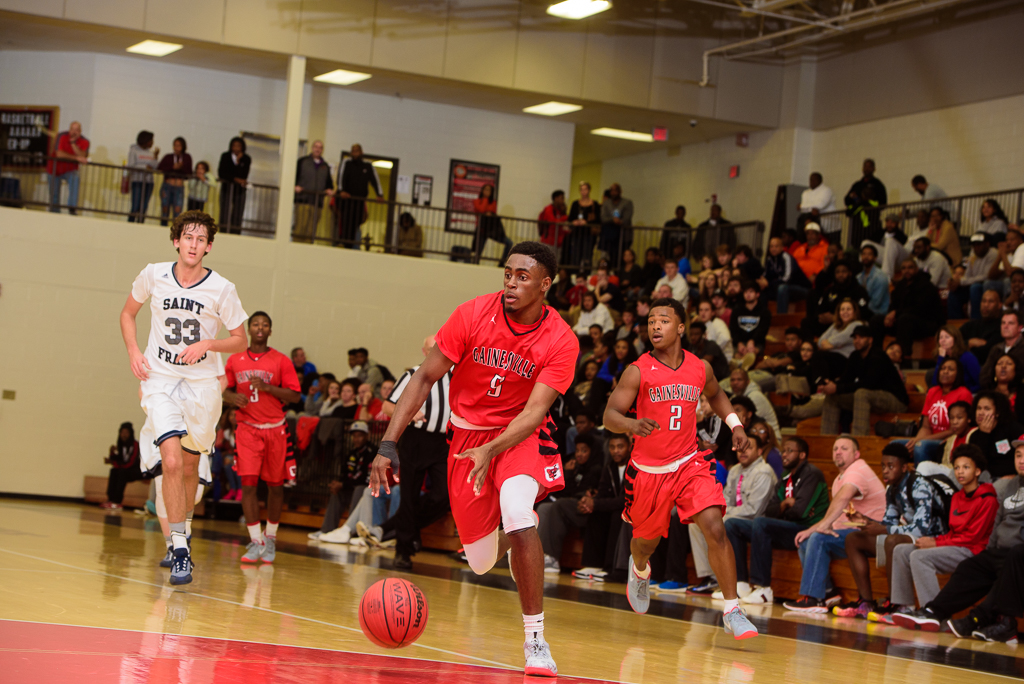 Photo By Ty Freeman
By Kyle Sandy/Sandy's Spiel
The Class AAAAAA picture is slowly starting to clear up as we enter into the heart of December. No. 1 Westlake suffered its first loss of the season to the nation's No. 1 team Montverde (FL), 76-54, but the Lions remain atop the class. Before the loss, Westlake did defeat Oak Ridge (FL), 67-63. No. 2 Shiloh was the fourth Georgia team (Wheeler, Pebblebrook) with a shot at knocking off Montverde but they also lost 72-55. Elsewhere in the state, No. 5 Tift County continued its quiet rise, jumping No. 6 Collins Hill to crack the top five. The Blue Devils defeated 5A No. 8 Warner Robins 70-55. The bottom of the poll saw some movement as Pebblebrook (3-4) and Milton (4-2) dropped out. Pebblebrook continues to be possibly the most exciting team to watch in the entire state, but they rely on outscoring teams to win. A 104-101 overtime comeback over Campbell was a thrilling victory. On Saturday however, at the Adidas Xplosion, the Falcons fell to 2A No. 2 St. Francis 96-94 on a Kobi Simmons breakaway dunk with 1.1 seconds left after Auburn signee Jared Harper missed a shot with eight seconds left and the other guards forgot to rotate back on defense. Pebblebrook is extremely talented with Harper and Collin Sexton, who scored 40 in the loss, but it is the little things like not getting back on defense that is holding Coach George Washington's team back right now. Milton exits the poll after failing to impress and eking out a 61-59 win over Pope.
No. 9 Dacula and No. 10 Douglas County make their first appearances. Dacula has raced out to a 4-0 start and handed Douglas County its only loss of the season at the On the Radar Showcase, 78-72. The Falcons replace Pebblebrook as birds of prey in the top ten. Wofford signee Kevon Tucker is averaging 26.3 points per game and is one of the best scorers Gwinnett County has ever seen. Fellow senior Derek St. Hilaire has been just as good, pouring in 23 points on average. Demari Edwards is a nice third fiddle averaging 9.3 points per game. The one thing that is a glaring weakness that some teams may be able to exploit is the Falcons' lack of height. Tucker and Shayne Buckingham are listed as Dr. Russ Triaga's tallest players at 6-foot-4. Douglas County makes the poll after a 6-1 start highlighted by a signature victory over 5A No. 3 McIntosh at Holiday Hoopsgiving, 84-81. UNC signee Brandon Robinson is making his case for Mr. Basketball by averaging 29 points per game.
Still knocking on the door to crack the top ten is 5-0 Grayson. In Saturday's 58-52 win over Centennial, Austin Dukes scored 23 points and handed out five assists. Trey Sconiers posted 17 points and eight rebounds while Kenyon Jackson protected the paint with 10 points, seven rebounds and six blocks. Add those three along with big-time scorer Alphonso Willis and the Rams are as dangerous as it gets in Class 6A.
No. 2 Gainesville survived in an early season clash of titans in Region 8-AAAAA against No. 6 Heritage. The Red Elephants rallied from down 11 at the half to stun the Patriots 85-79 behind D'Marcus Simonds' 26 points and Bailey Minor's 20. No. 5 Cedar Shoals rises three spots to give Region 8 the No. 2, 5 and 6 teams in the state. The Jaguars have a colossal showdown with Gainesville this Tuesday. Defending state champion Brunswick, tumbles out of the top ten. Losses to Camden County 87-84 in 2OT and Coffee, 54-53, are tough to swallow after losing a ton from last year's title team. No. 10 Southwest DeKalb replaces Brunswick behind the play of Keith Gilmore. The senior forward is averaging 17.2 points and 6.8 rebounds for the undefeated Panthers. No. 7 Riverwood continues its sneaky climb. Kohl Roberts is powering the Raiders yet again with 15.8 points, 12.6 rebounds, 3.6 steals and 4.2 blocks per game. South Paulding (3-0) looks like it has designs on entering the top ten sooner rather than later. Keep an eye on Statesboro. The Blue Devils are off to a hot start at 4-0 and have wins over three ranked teams: Current 2A No. 8 Swainsboro 61-47, current 4A No. 4 Liberty County 75-74 and former 1A-Public No. 9 Portal.
Some interesting play has gone on in Class AAAA. Lithonia and Jonesboro remain No. 1 and No. 2, but No. 3 Henry County has vaulted three spots into the top three. No. 5 Grady is 6-0 and has three wins over ranked opponents: 67-66 over No. 7 Sandy Creek on Nov. 27 and most recently against No. 6 St. Pius last Tuesday 51-50 and 1A-Private No. 4 Whitefield Academy, 66-55. One score line turned a lot of heads as the Knights blasted Cross Keys 125-31. Coach Brian Weeden kept the foot on the gas pedal, allowing Bucknell-commit Avi Toomer to go for 52 points, eight rebounds and nine steals. No. 8 Bainbridge falls four spots. The Bearcats lost 68-60 to 2A No. 1 Seminole County without star player and UGA-signee Tyree Crump. Crump then returned against Dougherty, but the Trojans handed the full strength Bearcats a bad loss, 78-75. Bainbridge blew a 12-point halftime lead as Jaylen Taylor went for 17 points to fend off Crump's 26. Walnut Grove checks in at No. 10 as Region 4's third team (Jonesboro, Henry County) in the top ten. The Warriors suffered their first loss of the season last week, 58-52 to Jonesboro.
Class AAA remains an enigma. One thing is for certain however: Laney finds ways to win.  The Wildcats came back from steep double-digit deficits twice last week to rally and win 77-72 over Richmond Academy in overtime and 65-64 against Morgan County. Zep Jasper and Christian Keeling have carried the Cats during their time of doubt and have kept them undefeated. Blessed Trinity falls out of the rankings after a 5-2 start. They are replaced by Southwest Macon, who is enjoying a resurgence behind a high-powered offense. Justin Slocum at 6-foot-6 is anchoring the paint averaging 25 points and 11.8 rebounds a night. Transfer Nick Hargrove has continued his exciting play in the GHSA, scoring 20.5 points and handing out 4.3 assists per game. Fellow junior Aaron Ridley and freshman Jordan Slocum have both been major contributors as well.
No. 2 Pace Academy (0-2) holds its ranking in AA after a winless start. Losses to 6A No. 1 Westlake by seven and most recently 56-44 to 1A-Private No. 1 Greenforest are both good losses. Both Westlake and Greenforest are considered to be two of the best teams in the state regardless of classification. No. 3 Crawford County tipped off its season with three wins including a 98-86 win over 1A-Public No. 3 Hancock Central. No. 5 GAC swaps spots with No. 6 Holy Innocents' again after a 75-67 win in overtime at HIES without two starters including leading scorer Brian Coffey Jr. and 6-foot-8 center Charlie O'Briant. No. 8 Swainsboro fell to No. 7 Vidalia 59-58, but recorded a 52-50 overtime win over 1A-Public No. 1 Wilkinson County. A team to keep watch for is Monticello. The Hurricanes may only be 3-2, but both losses came to 5A No. 6 Heritage. Monticello was blown out on Nov. 20, 83-39, but lost by just four, 58-54, in the rematch this Saturday. The Hurricanes have wins over Greene County, Jones County and Warren County this season.
In 1A-Private, St. Francis continues to gel, get better and most importantly, healthier as the season moves on. Wins over new No. 9 Walker 88-52, No. 4 Whitefield Academy 60-55 and Pebblebrook 96-94 are all nice victories. North Cobb Christian continues to play well at No. 3, defeating No. 8 Landmark Christian 70-58. Tattnall Square Academy drops out after being routed by Paideia. Walker takes over in the poll behind Harvard bound big man Robert Baker. He is averaging 26.7 points, 14.8 rebounds, 3 assists, 2.7 steals and 2 blocks per game.
Class 1A-Public remains muddled. Wilkinson takes over No. 1 after an overtime loss to 2A No. 8 Swainsboro and a 68-55 win against No. 3 Hancock. Former No. 1, Calhoun County, suffered a bad loss to Stewart County 44-37 and now finds itself at No. 4. Taylor County debuts at No. 6 after wins against Upson-Lee 68-55 and 1A-Private No. 7 St. Anne-Pacelli, 73-51.
Class AAAAAA
1. Westlake
2. Shiloh
3. Wheeler
4. Norcross
5. Tift County
6. Collins Hill
7. Lambert
8. Newton
9. Dacula
10. Douglas County
Class AAAAA
1. Miller Grove
2. Gainesville
3. McIntosh
4. Allatoona
5. Cedar Shoals
6. Heritage
7. Riverwood
8. Warner Robins
9. LaGrange
10. Southwest DeKalb
Class AAAA
1. Lithonia
2. Jonesboro
3. Henry County
4. Liberty County
5. Grady
6. St. Pius
7. Sandy Creek
8. Bainbridge
9. Worth County
10. Walnut Grove
Class AAA
1. Laney
2. Jenkins
3. Morgan County
4. East Jackson
5. South Atlanta
6. Cedar Grove
7. Calhoun
8. Callaway
9. East Hall
10. Southwest-Macon
Class AA
1. Seminole County
2. Pace Academy
3. Crawford County
4. Thomasville
5. GAC
6. Holy Innocents'
7. Vidalia
8. Swainsboro
9. Lovett
10. Early County
Class A-Private
1. Greenforest
2. St. Francis
3. North Cobb Christian
4. Whitefield Academy
5. SWAC
6. Lakeview Academy
7. St. Anne-Pacelli
8. Landmark Christian
9. Walker
10. Stratford Academy
Class A-Public
1. Wilkinson County
2. Treutlen
3. Hancock Central
4. Calhoun County
5. Randolph-Clay
6. Taylor County
7. Dooly County
8. Greenville
9. Terrell County
10. Turner County