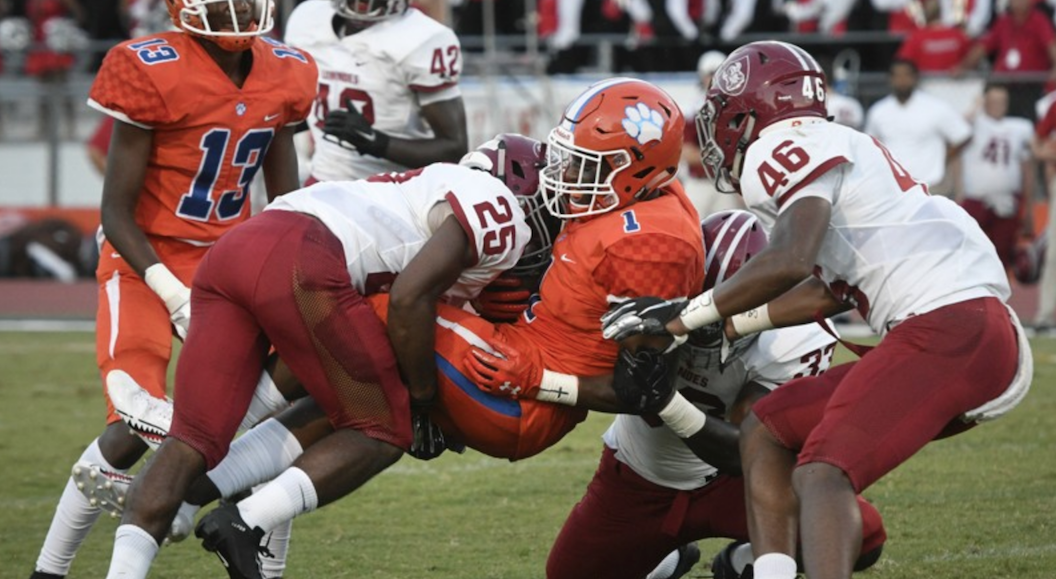 In Class AAAAAAA, Lowndes moved up to No. 4 after scoring a 38-7 win over Parkview. The Panthers dropped to No. 9 after the defeat.
Former Class AAAAAA No. 1 Lee County was stunned by Class AAA No. 1 Peach County 40-17. The Trojans' loss dropped them to No. 6. Bainbridge spent Friday blanking North Miami Beach, Fla. 37-0 at home to hold on to its No. 1 ranking in Class AAAAA. The poll did not move much except for Kell entering at No. 9 to replace Clarke Central. The Longhorns defeated Lassiter 27-0 on Friday.
Cartersville took over No. 1 in Class AAAA after Woodward Academy toppled Blessed Trinity 13-10. Woodward Academy jumped to No. 4 and the Titans fell to No. 5.
In Class AAA, top-ranked Peach County stunned Class AAAAAA No. 1 Lee County 40-17 in Fort Valley on Friday and is undoubtedly deserving of the top spot in Class AAA. No. 2 Cedar Grove spent Friday beating Valor Christian, a storied Colorado program, 27-17 on the road. Westminster slides back into the poll at No. 10 after a 42-14 victory over St. Pius X.
Rockmart is still on top of Class AA after a BYE week. The Yellow Jackets enjoyed a 51-14 victory over Central-Carroll on August 30. Dublin defeated Swainsboro 35-13 on Friday to keep its No. 2 spot. Hapeville Charter and Callaway are No. 3 and No. 4, respectively, with Washington County rounding out the top 5.
In Class A-Private, Eagle's Landing Christian is at the top again after a shutout victory over Heritage-Conyers 42-0 on Friday. The Chargers are ahead of Athens Academy, Darlington and Prince Avenue Christian with a new No. 5, Wesleyan, entering the fray.
Class AAAAAAA
1. Marietta
2. Colquitt County
3. Archer
4. Lowndes
5. McEachern
6. Grayson
7. Hillgrove
8. North Gwinnett
9. Parkview
10. Milton
Class AAAAAA
1. Dacula
2. Valdosta
3. Coffee
4. Harrison
5. Allatoona
6. Lee County
7. Lanier
8. Stephenson
9. Dalton
10. Northside-Warner Robins
Class AAAAA
1. Bainbridge
2. Buford
3. Warner Robins
4. Carrollton
5. Jones County
6. Dutchtown
7. Rome
8. Stockbridge
9. Kell
10. Wayne County
Class AAAA
1. Cartersville
2. Marist
3. Troup
4. Woodward Academy
5. Blessed Trinity
6. Cairo
7. Sandy Creek
8. Denmark
9. Thomson
10. Flowery Branch
Class AAA
1. Peach County
2. Cedar Grove
3. Calhoun
4. Pierce County
5. Greater Atlanta Christian
6. Hart County
7. Benedictine
8. Appling County
9. Lovett
10. Westminster
Class AA
1. Rockmart
2. Dublin
3. Hapeville Charter
4. Callaway
5. Washington County
6. Rabun County
7. Swainsboro
8. Brooks County
9. Dodge County
10. Fitzgerald
Class A-Public
1. Clinch County
2. Irwin County
3. Pelham
4. Marion County
5. Mitchell County
6. Commerce
7. Schley County
8. Manchester
9. Trion
10. Bowdon
Class A-Private
1. Eagle's Landing Christian
2. Athens Academy
3. Darlington
4. Prince Avenue Christian
5. Wesleyan
6. Aquinas
7. Fellowship Christian
8. North Cobb Christian
9. George Walton Academy
10. Calvary Day