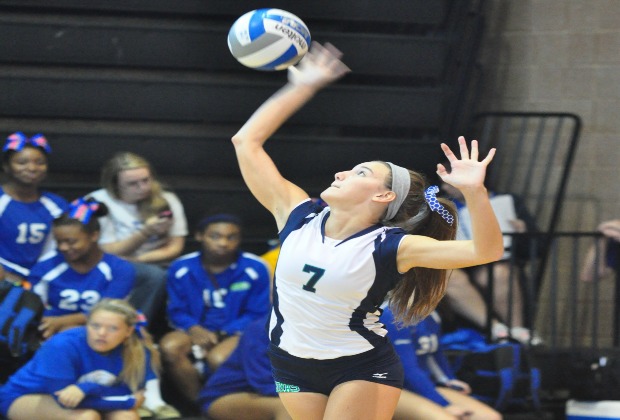 Clayton Taylor
South Forsyth moved up to No. 2 this week after topping Landmark Christian twice and rolling in straight sets against North Cobb and Harrison. The War Eagles improved to 24-2 on the season
Walton had a trio of tough losses over the weekend to out-of-state schools including a 2-1 loss to Notre Dame (Ohio), but remain at the top of Class AAAAAA. The Raiders open region play Tuesday with Cherokee and Roswell at home. Harrison topped Auburn (Ala.), Northgate, Sandy Creek, Roswell twice and St. Pius X before falling to South Forsyth. The Hoyas move to 26-4 and continue their successful season. Johns Creek fell to a surging East Coweta team (25-13, 25-20), but were able to beat St. Pius X in three sets on Thursday. The Gladiators open up region play with North Forsyth and Chattahoochee at Centennial on Tuesday. The War Eagles move to 24-2 on the season.
In Class AAAAA, Harris County fell to Warner Robins, Rockdale County and Veterans over the weekend, but hangs on to the No. 2 spot as Pope moves up to No. 4 after a competitive weekend.
Columbus fell to North Cobb twice over the weekend, but holds down No. 1 in Class AAAA with wins over Lassiter, Milton, Bluffton (S.C.) and Lovett. No. 2 Marist posted a big win over North Cobb and Whitewater over the weekend. Heritage-Catoosa moves up to No. 6 after going 6-0 and topping Murray County, Christian Heritage, Ringgold, North Murray, Northwest Whitfield and Ridgeland.
Blessed Trinity fell to an in-state opponent for the first time this season in a 2-1 loss to South Forsyth. At No. 2 in Class AAA is St. Pius X, and the Golden Lions had an impressive weekend with wins over East Coweta, Landmark Christian, Holy Innocents', Lassiter, Westminster, Etowah and Marist.
In Class AA, all 10 teams held their spots in the rankings with Westminster, Wesleyan, Lovett and St. Vincent's Academy all making cases for a top spot.
Savannah Christian is still No. 1 in Class A for its August win over No. 2 Landmark Christian. The No. 2 Eagles fell to Class AAAAAA South Forsyth twice on Saturday in competitive matches. No. 3 Holy Innocents' posted a pair of wins over Lassiter and also beat Class AAAAAA Milton, but fell to Westminster and Lambert.
Class AAAAAA
1. Walton
2. South Forsyth
3. Harrison
4. Johns Creek
5. North Cobb
6. East Coweta
7. Chattahoochee
8. Roswell
9. Woodstock
10. Mill Creek
Class AAAAA
1. McIntosh
2. Harris County
3. Starr's Mill
4. Pope
5. Northgate
6. Greenbrier
7. Lakeside-DeKalb
8. Riverwood
9. Northview
10. Whitewater
Class AAAA
1. Columbus
2. Marist
3. Veterans
4. River Ridge
5. Southeast Whitfield
6. Heritage-Catoosa
7. Woodland-Stockbridge
8. Carrollton
9. Jonesboro
10. South Effingham
Class AAA
1. Blessed Trinity
2. St. Pius X
3. Woodward Academy
4. Buford
5. Sonoraville
6. Oconee County
7. Islands
8. Cartersville
9. North Murray
10. Morgan County
Class AA
1. Westminster
2. Wesleyan
3. Lovett
4. St. Vincent's Academy
5. Calhoun
6. Jefferson
7. Greater Atlanta Christian
8. Westside-Augusta
9. Spencer
10. Kendrick
Class A
1. Savannah Christian
2. Landmark Christian
3. Holy Innocents'
4. Walker
5. Hebron Christian
6. Mt. Paran Christian
7. George Walton Academy
8. Savannah Country Day
9. ELCA
10. Pace Academy