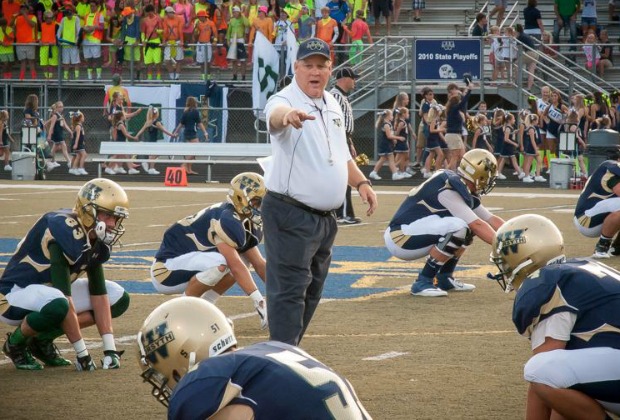 Photo by Blaine Davis
West Forsyth head coach Frank Hepler met with his team on Monday to announce his resignation after leading the program since its inception in 2007. Hepler has 21 years of experience as a head coach and, prior to his tenure at West Forsyth, he spent 14 years at the helm of Plantation High School in Florida.
The decision to resign was based on moving back to Florida for family reasons.
Both of Hepler's parents live in South Florida and his daughter is recently married and living in the area. His son Frankie is expected to join the football staff at Florida Atlantic University this year. The move to Florida will also give the veteran coach the opportunity to remain on the gridiron and serve as the defensive coordinator at Cypress Bay High School. Cypress Bay is located in Weston and is just 38 miles south of FAU.
A recent trip down to south Florida on Forsyth County's spring break allowed Hepler to meet with old coaches and the ideal scenario to return presented itself.
Hepler led West Forsyth to seven consecutive winning seasons and compiled a 51-18 record in his seven years at the school according to the GHSFHA. New West Forsyth principal Heather Gordy will lead the search for a new head coach. The staff has remained almost completely intact the past several years and keeping the hire in-house could be the next move.
The resignation of several veteran head coaches has been a theme across the state this offseason, but perhaps nowhere more than Region 6-AAAAAA. With Hepler's departure, all three top playoff seeds from the 2013 season out of Region 6 have resigned. Alpharetta replaced Jason Dukes, who took a job at Smiths Station in Alabama, with offensive coordinator Jacob Nichols. Lambert also promoted its offensive coordinator this past week by naming Louis Daniel head coach to replace Sid Maxwell. West Forsyth averaged 36.5 points per game the past two seasons under offensive coordinator Adam Clack and he will be one of the many candidates in the running for the job.