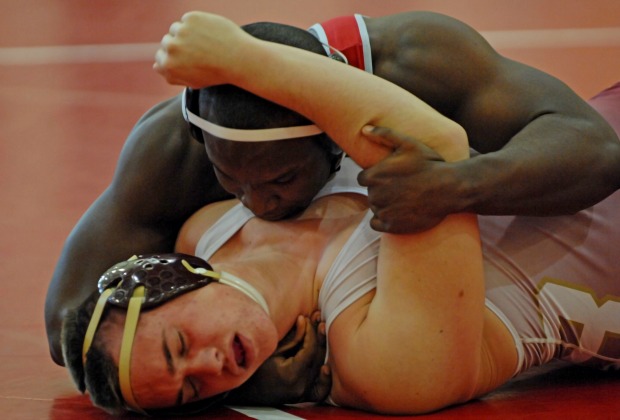 Sonny Kennedy
The seventh annual Hillgrove Duals boasted a talented field with Pope, Hillgrove, Kell, Sprayberry and Lassiter in one pool of teams, and Whitewater,Walton, Riverwood, Campbell and Kennesaw Mountain in the other. Whitewater and Pope entered the event as the favorites and met in the championship. The Greyhounds dominated with a 60-12 victory over Whitewater and was a perfect 5-0, topping Hillgrove (66-10), Lassiter (55-18), Sprayberry (75-6) and Kell (63-15) en route to their final round win over Whitewater. Kennesaw Mountain placed third with a 4-1 mark and Sprayberry and Walton each went 3-2. The Raiders edged Hillgrove 50-42 in a tight fifth-place match.
Archer prepares to defend its title at the Southern Slam Meet in Greenville, S.C. this weekend. The Tigers won the 42-team tournament last year. The top 20 finishers last year received automatic invitations back for this year. Alexander, Archer, Buford, Kell, Parkview and Woodward Academy will represent Georgia in this year's edition of the Southern Slam.
Archer returns as a favorite and has been the most impressive team in Class AAAAAA so far. The Tigers are 10-0 in duals and have three tournament wins in their trio of appearances. Archer's latest sweep came in the Takedown Sportswear duals with a 64-10 win over Bradley Central (Tenn.) and four lopsided wins over its Georgia opponents. Archer topped Banks County (62-12), Marietta (81-0), South Forsyth (61-12) and Woodstock (66-3).
Meadowcreek had a successful run in this weekend's Blue Devil Classic. Ade Henderson-Harden (152 pounds), O.G. Henderson-Harden (195 and 220) and Ryan Moore (195 and 220) went unbeaten in the two-day event. Eighteen teams participated in the event and host Norcross finished third.