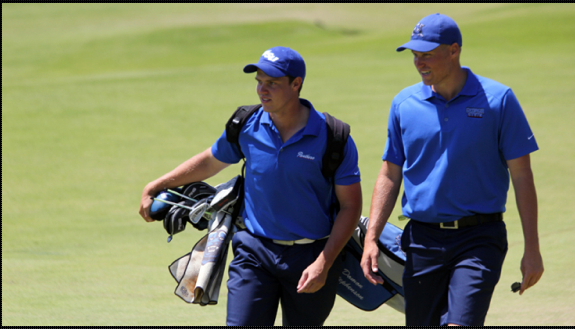 GSU Athletics
The Georgia State men's golf team advanced to the NCAA championship after finishing a school-best second place in the San Antonio Regional. The Panthers shot a 1-over 289 to advance to the championship for the fifth time in school history and the first since 2007. Tyler Gruca shot an impressive 6-under par after 54 holes to finish the event in third place, which is the best finish ever by a Georgia State player in NCAA regional play. Georgia State, ranked No. 43 in the nation by Golfstat, finished ahead of six teams ranked higher than it in the poll.
The Panthers will head to Hutchinson, Kan. to begin their quest for a National Championship. Thursday is a practice round and Friday will mark the official start of the tournament at Prairie Dunes Golf Club. Thirty teams with six individuals apiece will play 54 holes before the top eight teams advance to match play to determine the national champion.
SENIORS GO OUT ON TOP …
After being eliminated from the Sun Belt Conference baseball tournament last Friday, the Georgia State Panthers ended their season with a thrilling ninth-inning comeback against Western Kentucky that their 10 seniors will surely never forget. With the game tied at 2-2, senior Chad Prain found an opening down the right-field line for a three-run double to put the Panthers up 5-2. The Hilltoppers scored two runs in the bottom of the ninth, but Kevin Burgee got the final two outs for his eighth and final save of the season. All 10 seniors played in their final game and leave quite a legacy behind them. The group includes All-Americans, All-Conference players, National Players of the Week and 60 wins over the last two years.
GEORGIA TECH INVITATIONAL …
Katharine Showalter ran a career-best 10:25.69 to win the 3,000-meter steeplechase and lead Georgia State's track and field team last Friday at the Georgia Tech Invitational. Her time was 31st best in the NCAA East re- gion and keeps her in position to qualify for the NCAA East Preliminary Championships later this month. Coming off a win in last week's Sun Belt championship in the same event, Show- alter missed the school record by less than a second. Freshman Alysiah Whitaker continued her historic freshman campaign, finishing seventh among 19 throwers in the shot put. Whitaker is also expected to qualify for the NCAA East Preliminary Championships.