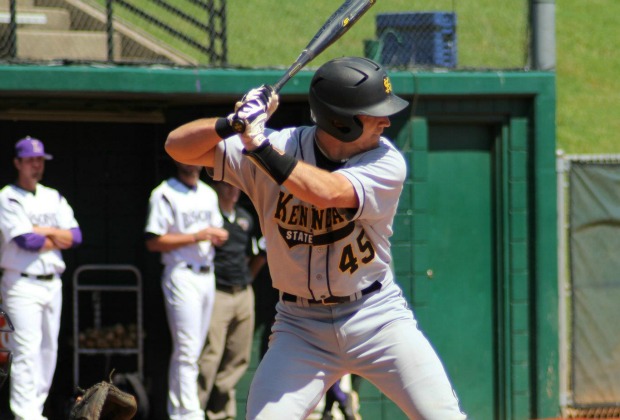 KSU Sports Information
Kennesaw State's baseball team started play in the Atlantic Sun Conference championships on Wednesday, but the result of their first-round game against East Tennessee State was not available at press time. Before the Owls kicked off their playoffs, they had their fi- nal regular-season series of the year last week against North Florida. After losing to Western Carolina 8-6 to break their 16-game win streak, the Owls took their frustration out on North Florida, winning 3-2, 5-4 and 1-0 last Thursday through Saturday.
Saturday's game was an exciting way to end the 2014 regular season. It went to extra innings and it was Matt Bahnick who ended up being the hero. In the bottom of the 10th, Bahnick hit a solo homer to give the Owls 19 wins in their last 20 games. Friday's contest had a little more action when it came to scoring runs and it was just as thrilling. Max Pentecost hit a walk- off single in the bottom of the ninth to give the Owls a 5-4 win.
Pentecost was one of three players with three hits that evening, joining Bo Way and Chris McGowan. It was also senior night for the Owls, who recognized their three seniors: Way, Andrew Austin and James McConnell. Pitching was the theme in Thursday's game as Jordan Hillyer allowed four hits and four strikeouts in 6.2 innings of work. The relief duo of McConnell and Justin McCalvin allowed a combined two hits in two innings. Pentecost and Way each had two hits in the win.
PLAYER OF THE YEAR …
With all the production Pentecost has contributed this season, the higher-ups at the Atlantic Sun would surely recognize it, right? Absolutely, because they named Pentecost the Player of the Year and also assigned him to the All-Atlantic Sun First Team. Pentecost leads the nation with 97 total hits and also has a .422 batting average, which is currently a school record.
"Max has done a great job for us all the way around," said KSU head coach Mike Sansing. "He's gotten the job done defensively, offensively and with his base running. Things the regular fan may not always see, he's done it all. It's been a great year for him and a great year for us all around as a team."
McCalvin also made the all-conference first team along with Pentecost. He leads the Owls with 12 saves, which is a team record since it joined Division I.