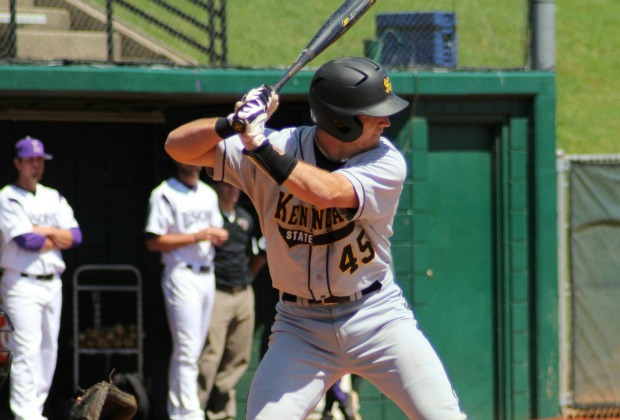 KSU Sports Information Dept.
The KSU baseball team extended its winning streak to five games after defeating Jacksonville State 11-4 on the road and Stetson in a three-game sweep at home. This week the team will head to Spartanburg, S.C for a three-game series against USC Upstate beginning Friday. KSU will look to extend its winning streak to six.
The softball team started off the week with a 5-4 win over Mercer and a double-header sweep against Stetson. The Owls' momentum came to a halt when Stetson shut them out in five innings. The Owls have yet to bounce back, losing both games of a doubleheader against UAB. The softball team will resume play April 18 at USC Upstate in a doubleheader.
The men's tennis team ended their season on a low note with losses to East Tennessee State University and USC Upstate. While the women's tennis team suffered a loss to East Tennessee State, they ended their season in a win against USC Upstate. This week several players received notable honors on both the men and women's tennis teams. Men's player Simon Pritchard was named to the Atlantic Sun Conference's first team all-conference team and all-freshman team, while women's players Alexandra Apostu and Virginie Stein were named Atlantic Sun Conference first team all-conference and selected as the No. 1 doubles team. Stein was also named to the Atlantic Sun Conference All-Academic team, for the second consecutive year. This award is given to student-athletes who achieve over a 3.3 GPA or better while participating in at least 50 percent of team competition.
The women's lacrosse team had a great showing at Howard University, winning 24-10. Yet, upon facing Elon University, the Owls suffered an 18-7 defeat. On April 18, Saint Mary's will face the Owls at home.
This week, the women's golf team competes in the Atlantic Sun Conference Championships in Jekyll Island. The tournament will come to a close April 16.