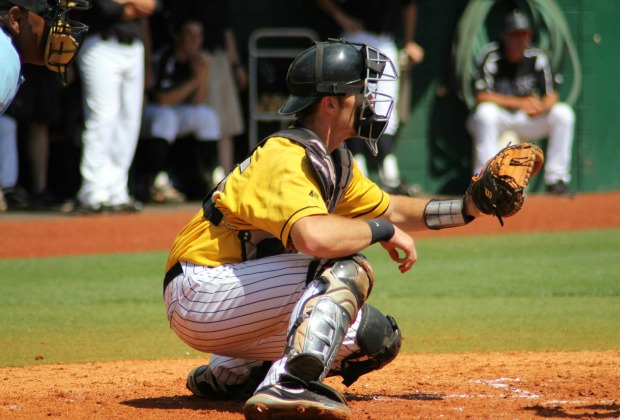 Photo by Brian Harper
Last season, Kennesaw State's baseball team fell short of winning the Atlantic Sun title
and getting an automatic bid to the NCAA Regionals. But history would not repeat itself this year because after a 16-game winning streak and an impressive run in the conference tournament, the Owls defeated Stetson 7-1 in last Sunday's championship game to win their first conference tournament title.
"It's a great feeling," head coach Mike Sansing told ksuowls.com. "Our guys played well throughout the last six weeks. This tour- nament was just another stride in that. We're excited. It's just a lot of fun." Brendan Morgan was named tournament MVP after going 9-for-14 with seven RBIs. He was 1-for-3 with one RBI for the Owls on Sunday. "It's a true honor," Morgan stated. "I had a pretty good week at the plate. Anybody in that lineup could have gotten it. The lineup up and down is unbelievable. Everybody came togeth- er and knows their role. Everything just came together."
Chris McGowan came up big for the Owls against Stetson, going 2-for-3 and knocking in three runs. Max Pentecost was the only other Owl with two hits in the final game. James McConnell got the win, pitching two innings in re- lief and giving up one hit and zero runs while striking out five batters.
ON TO FLORIDA …
So what's next for the Owls? They have now advanced to the regional part of the NCAA tournament and will travel to Tallahas- see to face Alabama on Friday. Each one of the 16 regional pods consists of four teams, with one of the four advancing to the Super Region- als. The other two participants in Tallahassee are Florida State, the host school, and Georgia Southern.
"Georgia Southern, we're obviously familiar with them," Sansing said. "We've played them the last five or six seasons. Tallahassee's a great venue. I know Florida State will have a great team. Alabama is a great program. We're in a situation where everyone has some history and has had some success, so we'll see. It's exciting for our players to play at Florida State."
Meanwhile, the Owls are nationally ranked by a major poll for the first time in school history. They currently register at No. 27 in the Collegiate Baseball Poll, which is one of the oldest baseball polls in all of college baseball. The Owls are the only A-Sun representative in the poll and they are also the highest ranked team in Georgia.