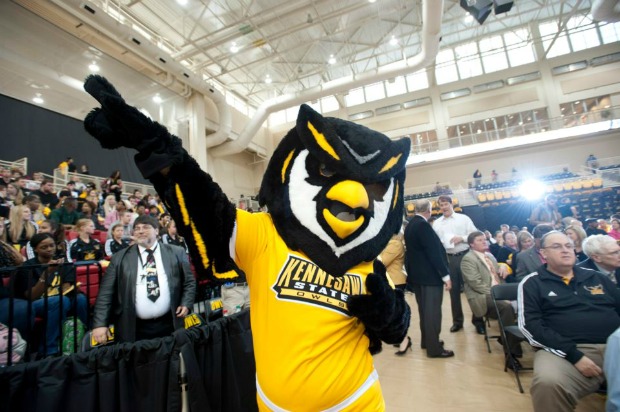 Kennesaw State Communications
The baseball team may have missed the College World Series by two games, but that doesn't mean they weren't represented in Omaha. Catcher Max Pentecost made his way to the College World Series on Wednesday as he was one of three finalists for the Johnny Bench Award which is given to the nation's best catcher. The other two finalists are Indi- ana's Kyle Schwarber and Ole Miss' Will Allen.
The award was given out on Thursday, but the results were not available at press time. Pentecost had an historic season for the Owls. He led the nation in total hits with 113 and he was second in the nation in batting average with .422. Both stats were Atlantic Sun and KSU records. Of his 113 hits, 24 were doubles, nine were home runs and two were triples.
Pentecost also tallied 61 RBIs and he also recorded 168 total bases. The junior also drew 30 walks while striking out only 26 times in 268 at-bats. Pentecost has been named to five First- Team All-American lists while also being named Atlantic Sun Player of the Year.
BASKETBALL UPDATE …
The basketball season is months away, but the men's team is hard at work as it gets ready to travel to Italy in August. Every four years, the NCAA allows a team to take an international tour and they can have 10 practices before they travel. Head coach Jimmy Lallathin will spread out the practices in July and the team will leave Aug. 5. Once they arrive in Italy, the Owls will play for games – two in Milan, one in Venice and one in Rome.
"It's going to be unbelievable," Lallathin told ksuowls.com. "It couldn't happen at a better time. Those 10 days of practice, it goes be- yond words what this can do for us."
This will be the first test for Lallathin who is in his first year as the head coach. He took over for Lewis Preston in January and he looks to get the Owls back on the winning track. And in order for him to do that, he needed the right coaching staff that has plenty of experience. And he has that with the addition of David Rivers and John Cremins. Rivers has spent years in the NBA and in Europe playing professionally and Cremins is the nephew of former Georgia Tech head coach Bobby Cremins.