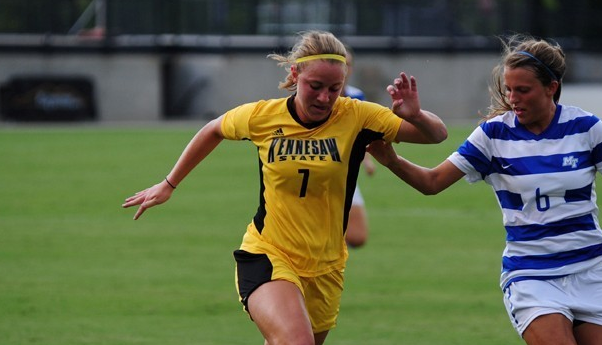 Photo by KSU Athletics
Kennesaw State's soccer team opened its 2014 season last Friday when it traveled to Tuscaloosa, Ala. to take on the Crimson Tide. Unfortunately, the Owls did not have the start they wanted as they fell 5-1.
Alabama struck first in the 13th minute when Pia Rijsdijk drilled a shot into the top of the net. The Tide struck again 19 seconds later when Laura Smith scored into the right corner. Lacey Clarida and Hailey Brohaugh scored in the 38th and 43rd minute, respectively, as 'Bama took a 4-0 lead into halftime. The Owls were able to get on the board in the 48th minute when Maggie Gaughan scored he fourth career goal, but the Tide added a late goal by Brohaugh to seal the Owls' fate.
Kennesaw State notched eight shots in the match, with Brittney Reed leading the way with three. Goalkeeper Mady Carter made the first start of her career and tallied seven saves.
COMEBACK AT HOME …
The Owls looked to bounce back on Monday while hosting Georgia State at Fifth Third Bank Stadium. To nobody's surprise, a competitive game ended in a tied 1-1 score following two overtimes. Neither team could get anything going in the first half until GSU's Ashley Nagy scored in the 39th minute. The Owls were able to even up the score when Iyani Hughes found the back of the net in the 71st minute.
"It was a good, hard-fought game between two teams that were pretty even," head coach Rob King said to KSUOwls.com. "I was a little disappointed that we went down a goal against the run of play. They only had one shot. We were very tight defensively and gave up a goal and then we had to chase the game. But I am very proud with the intensity we kept up all the way through. We dominated the game; dominated possession."
Kennesaw State will play in the Trojan Classic this weekend. It will face Troy on Friday and South Alabama on Sunday.
On Thursday, KSU hosted its Welcome Back and the main attraction was the unveiling of new football uniforms. The event took place at the Campus Green, where fans were able to get a glimpse of what the football team will be wearing next year. The athletic department also unveiled the official football logo for the inaugural season, which will begin on Sept. 3, 2015 against East Tennessee State.