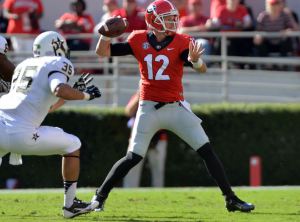 Brant Sanderlin/ AJC
Later today is the start of spring practice for the Georgia Bulldogs. Like in years past, there are a lot of players returning on both sides of the ball.
However, there is also a ton of spots on the field that are up for grabs in terms of starting positions. Nine starting positions need to be replaced by the start of the season in September.
This is a look at crucial spots on the field that I feels will be heavily scrutinized over the next few weeks.
·        Quarterback
For the first time since the spring of 2010, Georgia has to go into spring and very likely the fall without knowing who the full-time starting quarterback is. This year the battle looks like it will be between rising redshirt sophomore Brice Ramsey, junior Faton Bauta, and redshirt freshman Jacob Park. Not a single one of these signal-callers has started a game at UGA. Ramsey has the most playing time of the three, including the relief appearance this past season in the Belk Bowl win over Louisville. Head coach Mark Richt has stated it at least twice that the addition of new offensive coordinator/quarterbacks coach Brian Schottenheimer could make this an interesting competition. Keep this in mind, the Bulldogs will have three scrimmages over the course of this next month. Coincidence? Three quarterbacks? I think not.
·        Center
David Andrews was a very valuable member of this program, as a three year starter at center. Now, Georgia must find a new offensive line captain. This position is responsible for calls up front and recognizing defensive fronts that are facing them on plays. As of right now, Georgia looks like they'll have senior Hunter Long and rising sophomore Isaiah Wynn going for the position. Long was able to get a little bit of playing time last season in the Florida game. Just like the quarterback battle, there's a new position coach for the offensive linemen. New coach Rob Sale has four out of the five positions spoken for by returners. However, he's going to have a very tough decision to make on one of the more valuable spots.
·        Wide Receiver
Georgia graduated two of the more recognizable wide receivers in recent program memory with Chris Conley and Michael Bennett. Both receivers combined for 73 catches, 1,061 yards, and 12 touchdowns in 2014. Now, it is completely the Malcolm Mitchell show. The Valdosta product is back for his senior season, after playing nine games last year. Mitchell was able to come back against Vanderbilt, after missing the first four games of the season with an injury. Remember, he missed almost all of 2013, after tearing his ACL at Clemson. He was able to bring in 31 catches for 248 yards this past year. Fans are also hoping that fellow rising senior Justin Scott-Wesley can bounce back from his own ACL tear in 2013. Prior to that point, he looked like he was on his way to a very good season. The Bulldogs also have Reggie Davis, Kenneth Towns, Isaiah McKenzie, and Blake Tibbs returning this season. That said, it probably won't be a surprise that freshman find their way onto the field in 2015. We could be looking at players like Terry Godwin finding their way to the field.
·        Inside Linebackers
Yes, Georgia is losing two of their leading tacklers from 2014 in Amarlo Herrera and Ramik Wilson. However, it is time for rising juniors Reggie Carter and Tim Kimbrough. Both players were able to play most of the time last season, despite being behind Wilson/Herrera on the depth chart. Fellow junior Ryne Rankin will no doubt try to pick up some playing time in 2015. That process will begin with the start of spring practice.
·        Defensive Line
Georgia did play less defensive linemen in their base defense than they had in the past few seasons. That said, they are losing two players that had solid final seasons in Athens with Ray Drew and Mike Thornton moving on. They are getting Sterling Bailey, Chris Mayes, John Atkins, and Josh Dawson back in the fold. Plus, they will have early-entry Jonathan Ledbetter on campus ready to compete for playing time. Defensive line coach Tracy Rocker will have time to develop some continuity with this group over the next month. Then he gets more players into the fold come August. The state's number one prospect Trent Thompson will be on campus by that time.