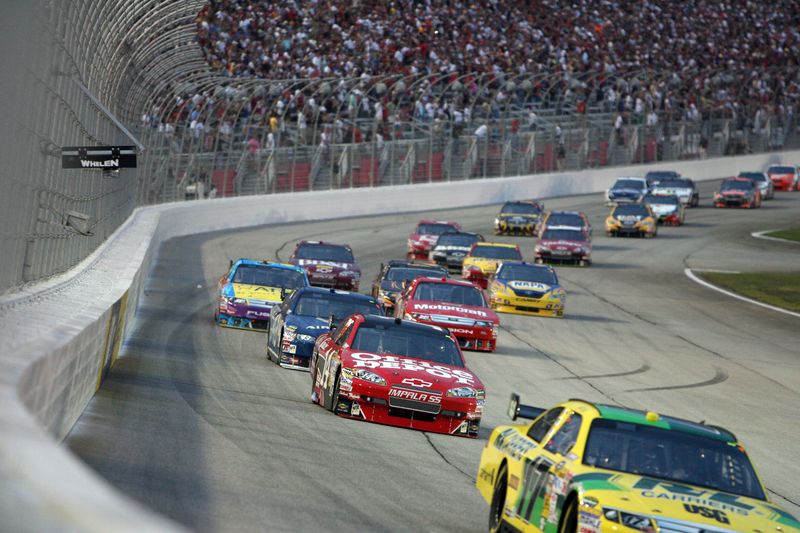 Photo by AtlantaMotorSpeedway.com
It is finally among us! After weeks and even months of anticipation, Labor Day Weekend is here and that means the uber-crucial Oral-B 500 is coming to town this Sunday. With the NASCAR Sprint Cup Series regular season coming to a close and still a few more coveted spots open for the Chase for the Sprint Cup, this weekend is sure to be one that you do not want to miss.
Diehard racing fans know the importance of this weekend and already have begun to camp out. All of Atlanta Motor Speedway's exterior campgrounds opened this past Saturday for both tents and RV units alike. Many fans try to camp out to get the full experience of the weekend and to taste the electricity in the air. There are campground spots available that are within walking distance from the speedway's Fan Zone and also the grandstands. If you are interested in camping out, all tent camping begins at $100, while unreserved RV spaces start at $60 and reserved spaces at $100. The only remaining camping spaces with water, power and electrical hook-ups are in Trackside Terrace. The terrace boasts a beautiful view of Atlanta Motor Speedway and provides campers with 10 admission tickets for each day of the race weekend.
CHASE FOR THE CHASE …
With only one race left after the Oral-B 500, drivers will be pounding the gas pedal trying to speed into the limited spots left in the Chase for the Sprint Cup. The 10-race playoff format will certainly bring drama as drivers race for glory. With the big dogs such as Jeff Gordon, Jimmie Johnson and Dale Earnhardt Jr. obviously all locks for the Chase, it is the drivers on the fringe with the most to prove. Matt Kenseth, Ryan Newman, Clint Bowyer and Greg Biffle would all qualify based on points right now. If one of those four wins the race, he would be locked into a Chase position.
Drivers Kasey Kahne, Austin Dillon and Jamie McMurray all have work to do. Kahne currently sits in 13th place. With 16 drivers in total qualifying, the top 15 with the most wins will make the Chase. The goose-egg in the winner column is the thorn in each of these three drivers' side. Kahne was driving a strong race before mechanical issues spoiled his chances in Bristol this past weekend. He has two Atlanta wins under his belt in his career and will need to duplicate his past success in order to make the Chase. Dillon finished 28th last weekend after early damage to his car set him back. McMurray performed the best out of the trio of drivers as his No. 1 car cruised to eighth place.
GREAT CLIPS 300 …
Aside from the Oral-B 500, the Great Clips 300 will be held on Saturday to benefit Feed the Children, a non-profit relief organization. Its mission is "providing hope and resources for those without life's essentials." Celebrities Evander Holyfield, Bill Elliott and Bo Bice will open the race. Holyfield, an Atlanta native and five-time world heavyweight champion, will be the honorary starter. Awesome Bill from Dawsonville will be the Grand Marshall and Bice will sing the National Anthem. Tickets for the Great Clips 300 start at $30, with children 12-and- under being admitted for free.
Being the Grand Marshall at a crucial race would probably be the highlight of anyone's week, but not for Bill Elliott. On Thursday, he was inducted to the NASCAR Hall of Fame. During his historic career, Elliott won the 1988 NASCAR championship, 44 Sprint Cup Series events and was named NASCAR's Most Popular Driver Award 16 times. Elliott's career took off in 1985 when he won the "Winston Million," capturing a million-dollar bonus for winning races at Daytona, Talladega and Darlington. Elliot was inducted into the "Speed Lane" in Downtown Hampton, complete with a parade in his honor that saw him finish his route by en- tering Atlanta Motor Speedway's main tunnel.
Be sure to support a local legend and follow the races this weekend. For more information on this week's events, log onto www.atlantamotorspeedway.com