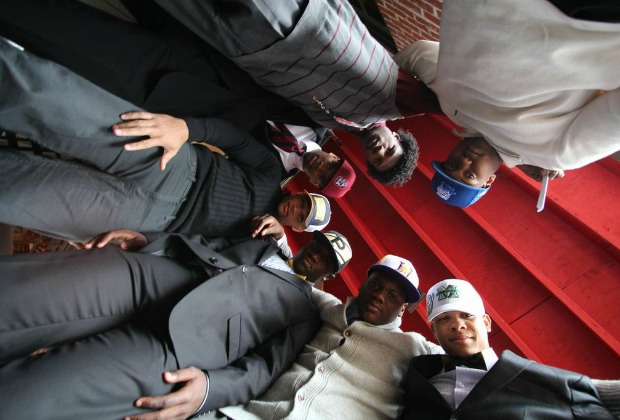 Eric Murphy
Brothers Elliott and Evan Berry of Creekside High School signed their official National Letters of Intent on Wednesday, both—as expected—committing to the University of Tennessee. The Berrys celebrated along with eight other college-bound teammates and Seminoles' head coach Olten Downs at the Taco Mac in Peachtree City.
Additional Creekside signees included Chris Collins, Lawrence Curtis, Cameron Jackson, Robert Kimble, Dexter Knox, Quatrez Sparkman, Robbie Stephenson and Darvin Williams. Only one other school aside from Tennessee landed multiple Creekside stars. Kimble is headed to Miles College (Fairfield, Ala.) and Sparkman switched his choice from Coastal Carolina to Miles.
Elliott and Evan Berry are brothers of current Kansas City Chiefs' safety Eric Berry, who played at Tennessee from 2007 to 2009. The twins helped Creekside compile a perfect 15-0 in 2013 en route to its first state championship in school history.
I'm officially a vol!!

— Evan Berry (@aSuperManDoe) February 5, 2014
The Seminoles were not the lone state champs showcased at the Peachtree City location. While Creekside triumphed in Class AAAAA, Griffin prevailed in Class AAAA. A pair of Bears signed on Wednesday, with quarterback Jaquez Parks and defensive back Devontae Freeman both choosing to stay at home in Georgia. Parks signed with Kennesaw State and Freeman is heading to Georgia Military College. Griffin coaches indicated that wide receiver Trey Willis would officially sign later in the week.
As for high-school teammates who will stick together at the next level, Banneker was king on Wednesday in Peachtree City. Eight Banneker players enjoyed the festivities at Taco Mac and exactly half of them signed with Benedict College (Columbia, S.C.). Tavares Acree, Tre' Britt, Cameron Richardson and Antonio Todd are all taking their talents to Benedict.