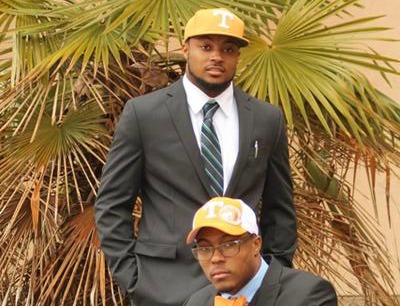 Eric Murphy
We are counting down to National Signing Day 2014 by putting the spotlight on 25 of Metro Atlanta's top prospects as they choose their college destinations. These athletes will be recognized for their outstanding varsity careers throughout Score Atlanta's record breaking coverage of the Peach State's signees. #NSDFrenzy
Gifted with natural football genes, Evan Berry (5'11'', 190 pounds) is without question one of the best athletes in Georgia. In fact, he is listed as an athlete by most media outlets, indicating that he can play multiple positions. He did just that for Creekside High School and it is not yet a certainty where he will line up in college. Berry saw time at receiver on offense for the Seminoles, but he did his most impressive work in the defensive secondary and likely projects best as a strong safety.
Berry is the younger brother of current Kansas City Chiefs' safety Eric Berry and the twin brother of Creekside teammate Elliott Berry. Both Berry twins are heading to the University of Tennessee, where Eric starred from 2007 to 2009. Led by Evan and Elliott, Creekside compiled a perfect 15-0 record in 2013 and captured its first state championship in school history. Evan suffered a hamstring injury in the first half of his final game and although it likely has no long-term seriousness, he was unable to return.
Scouts especially like Berry's speed, hard hitting, and ball-hawking prowess. His ability to defend the pass is undeniable, but Tennessee—should it use Berry at safety—will want to see improvement in the run-stopping department.
1. Nick Chubb
2. Lorenzo Carter
3. Nick Ruffin
4. Bryson Allen-Williams
5. Dante Sawyer
6. Cortez McDowell
7. Korie Rogers
8. Wesley Green
9. Mike Rogers
10. Orlando Brown
11. Detric Dukes
12. Nate Brown
13. Andrew Williams
14. Kendarius Webster
15. Allen Artis
16. Demarquis Gates
17. Kevin Mouhon
18. Elisha Shaw
19. Treyvon Paulk
20. Myles Autry
21. Taariq Shabazz
22. Kendall Baker
23. C.J. Leggett
24. Grant Haley
25. Evan Berry