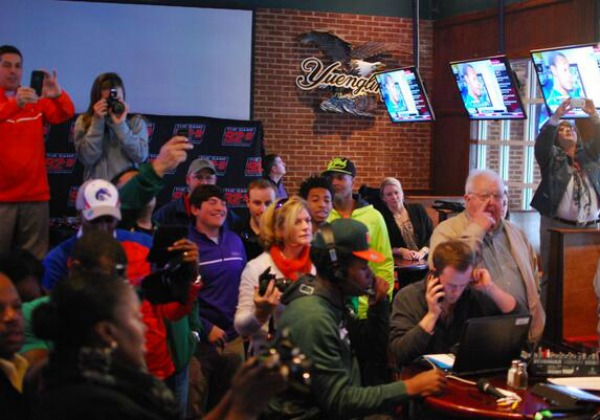 Jason Mussel
We are counting down to National Signing Day 2014 by putting the spotlight on 25 of Metro Atlanta's top prospects as they choose their college destinations. These athletes will be recognized for their outstanding varsity careers throughout Score Atlanta's record breaking coverage of the Peach State's signees. #NSDFrenzy
Elisha Shaw, 6'5'' and 296 pounds, dominated on both sides of the ball as a junior at Tucker, playing defensive tackle and offensive tackle. He was sidelined for his entire senior season at Tucker High School due to a serious neck injury. He also missed his sophomore season before wowing scouts with impressive showings at summer camps prior to the 2012-13 campaign.
Shaw's athleticism and his combination of speed and power off the ball suggest a team at the next level will use him on defense. However, he has long arms and quick feet that give him potential to develop into an elite offensive tackle.
Shaw had been expected to make a commitment in early January, but he is now planning to wait until National Signing Day as some schools are showing interest once again after being scared off by the neck issue. He has named a top two of Alabama and Georgia. He also either had or has interest from Auburn, Florida State, Ohio State and Texas. He attended the prestigious U.S. Army All-American Bowl in San Antonio, Texas but did not play. Prior to the early January game, players delivered footballs to patients at a local hospital and the multi-talented Shaw presented his after enhancing each one with his own artwork.
1. Nick Chubb
2. Lorenzo Carter
3. Nick Ruffin
4. Bryson Allen-Williams
5. Dante Sawyer
6. Cortez McDowell
7. Korie Rogers
8. Wesley Green
9. Mike Rogers
10. Orlando Brown
11. Detric Dukes
12. Nate Brown
13. Andrew Williams
14. Kendarius Webster
15. Allen Artis
16. Demarquis Gates
17. Kevin Mouhon
18. Elisha Shaw
19. Treyvon Paulk
20. Myles Autry
21. Taariq Shabazz
22. Kendall Baker
23. C.J. Leggett
24. Grant Haley
25. Evan Berry