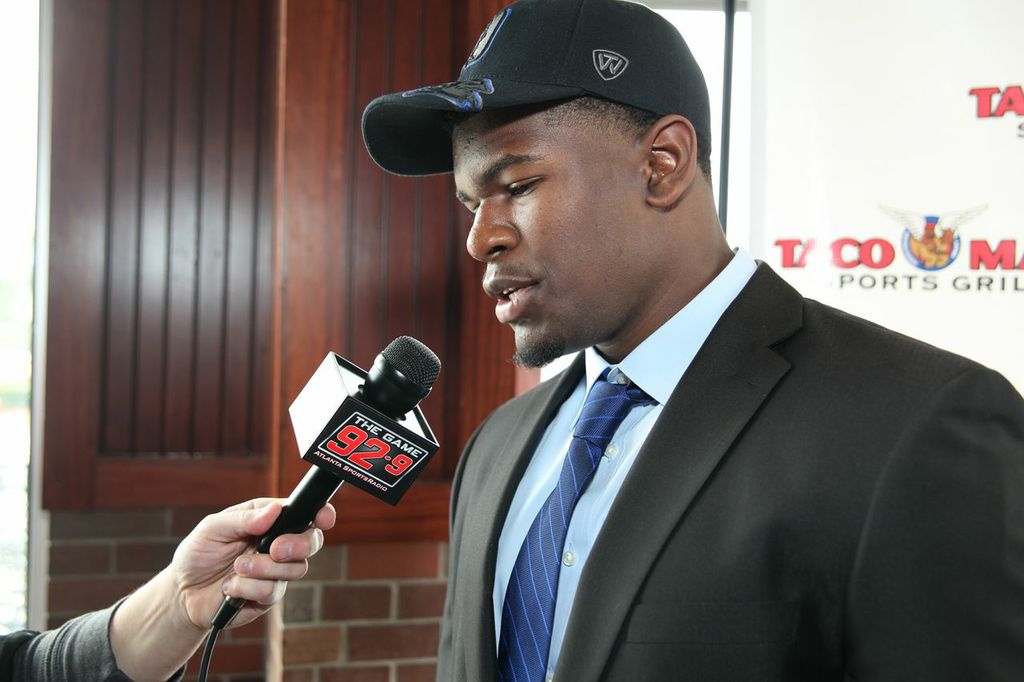 Photo by James Bates
We are counting down to National Signing Day 2014 by putting the spotlight on 25 of Metro Atlanta's top prospects as they choose their college destinations. These athletes will be recognized for their outstanding varsity careers throughout Score Atlanta's record breaking coverage of the Peach State's signees. #NSDFrenzy
Taariq Shabazz stands at 6'3'' and 240 pounds. He starred as a defensive end at Kennesaw Mountain High School and could play either that position or outside linebacker at the next level. As a junior in 2012 he compiled 16.5 tackles for loss and three sacks. A hamstring injury prevented Shabazz's senior campaign from being as productive, which contributed to Kennesaw Mountain's 2-8 record. He also wrestles for the Mustangs.
Shabazz committed to Duke University during the summer of 2013. He said he primarily chose the Blue Devils due to the school's academic reputation and also because of veteran defensive ends coach Rick Petri. Duke's defensive system features four down linemen, two linebackers and five defensive backs. It will allow Shabazz to line up in a two-point stance, which is his preference over putting his hand on the ground. The Acworth native also received offers from Central Florida, Cincinnati, Southern Mississippi and Vanderbilt, among others.
His primary strength is speed around the outside that allows him to wreak havoc in opponents' backfields. He has room on his frame to get stronger, which will be necessary for college success.
1. Nick Chubb
2. Lorenzo Carter
3. Nick Ruffin
4. Bryson Allen-Williams
5. Dante Sawyer
6. Cortez McDowell
7. Korie Rogers
8. Wesley Green
9. Mike Rogers
10. Orlando Brown
11. Detric Dukes
12. Nate Brown
13. Andrew Williams
14. Kendarius Webster
15. Allen Artis
16. Demarquis Gates
17. Kevin Mouhon
18. Elisha Shaw
19. Treyvon Paulk
20. Myles Autry
21. Taariq Shabazz
22. Kendall Baker
23. C.J. Leggett
24. Grant Haley
25. Evan Berry
(CLICK HERE For a list of all the signees in the state)