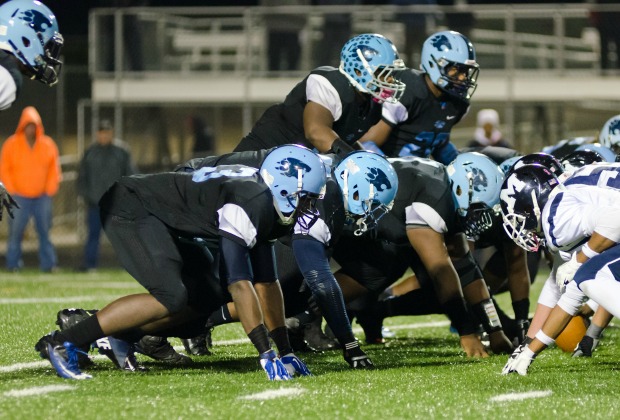 Jason Mussel
We are counting down to National Signing Day 2014 by putting the spotlight on 25 of Metro Atlanta's top prospects as they choose their college destinations. These athletes will be recognized for their outstanding varsity careers throughout Score Atlanta's record breaking coverage of the Peach State's signees. #NSDFrenzy
Demarquis Gates missed his entire senior season at Lovejoy High School due to knee surgery. The outside linebacker, who never got clearance from doctors to return to action in 2013, should be ready in time for his freshman college campaign in the fall.
He spent the year helping to coach the Lovejoy team, which captured a second straight region title and advanced to the second round of the Class AAAAAA state playoffs. Gates also dealt with injuries as a junior, but he still recorded 90 tackles, including 75 of the solo variety. He also tallied 14 tackles for loss, four sacks, nine quarterback hurries and a forced fumble.
Gates committed to Ole Miss last spring, but it was a soft verbal commitment and in general he is undecided. He also has offers from Indiana, Kentucky and Wake Forest. Although he is not spectacular in any particular department, Gates is solid all around with no serious weaknesses (durability, of course, is one concern). He is an excellent open-field tackler. He registers at 6'2'' and 215 pounds and hopes to add 10 pounds of muscle heading into his first year at the next level.
1. Nick Chubb
2. Lorenzo Carter
3. Nick Ruffin
4. Bryson Allen-Williams
5. Dante Sawyer
6. Cortez McDowell
7. Korie Rogers
8. Wesley Green
9. Mike Rogers
10. Orlando Brown
11. Detric Dukes
12. Nate Brown
13. Andrew Williams
14. Kendarius Webster
15. Allen Artis
16. Demarquis Gates
17. Kevin Mouhon
18. Elisha Shaw
19. Treyvon Paulk
20. Myles Autry
21. Taariq Shabazz
22. Kendall Baker
23. C.J. Leggett
24. Grant Haley
25. Evan Berry
(CLICK HERE For a list of all the signees in the state)